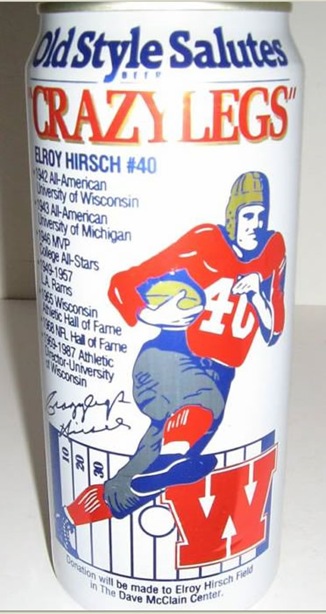 The edition of eBay Watch starts with a special edition tall boy can of Old Style beer featuring the great Elroy 'Crazylegs' Hirsch of Wisconsin.  I can't believe no Badger fan has forked over the $5.05 the seller is asking.   Oh wait—this can is empty !
It's through Hirsch that Michigan and Wisconsin share a common bond.  The Badger tailback tore up defenses in 1942 in Madison before WWII changed his scenery.
The war understandably did some funny things to college football.   I mentioned recently that Michigan State didn't even field a team in 1943.   Military regulations hatched the need for Michigan's first night game at Marquette in 1944.  And in 1943 the Wolverines benefited from several athletes reporting to the Ann Arbor for military service, most prominently Crazy Legs.  Hirsch was joined by several Badger teammates including quarterback Jack Wink and center Fred Negus along with Minnesota fullback Bill Daley.
Here's a snap of an AP photo depicting the new teammates when Fritz Crisler started practice for the '43 season: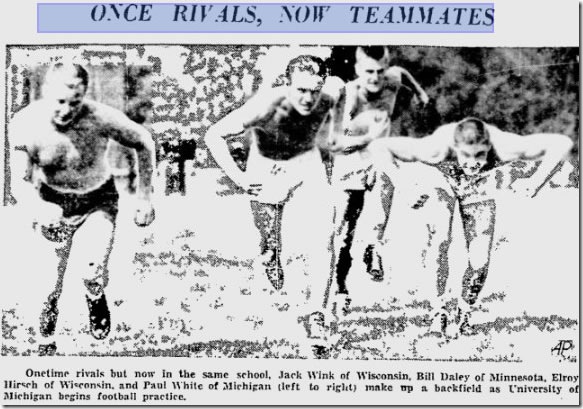 If you are wondering, yes, Michigan and Wisconsin played in 1943 but it appears as though Hirsch was on the sidelines for much of the game with a shoulder injury.  Crisler did insert him into the game to kick the extra point on the Michigan's final touchdown in the 27-0 rout.
Hirsch went onto stardom in the NFL, moving to flanker and setting all kinds of records along the way.  He's a member of the college and pro football Halls of Fame. 
As far as the beer can, hey Badger fans, maybe there's a nip or two of brew still in there?
Related:  Stoned Badgers say, "I was there"  (1981)