Next up on eBay Watch, a look at the auction for a Ping putter bearing the name of Michigan Heisman Trophy winner Tom Harmon: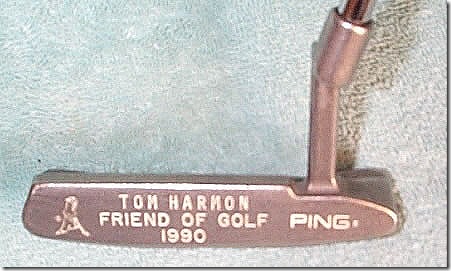 The silver Ping Anser 2 putter includes the inscription 'Friend of Golf 1990'.  
At first I wasn't sure if the Harmon on the club was indeed Old 98, but after a little Google digging I confirmed that this was indeed dedicated to the Wolverine great.  It turns out Harmon was associated with a group formed by a bunch of UCLA grads called Friends of Golf, and even inspired the Ben Hogan Award, a Heisman-like trophy for the a top "collegiate golfer/scholar":
In 1990, the late Tom Harmon, a FOG [Friends of Golf] Director and former football great and Heisman Trophy winner, got the idea for a similar trophy that would honor annually an outstanding collegiate golfer/scholar. Harmon gained the endorsement of his long-time friend, Ben Hogan, and thus, in 1990, the Ben Hogan Trophy was established. The College Golf Coaches Association annually selects the All-American College Amateur Golfer of the Year who is awarded this coveted trophy. The player's name and that of his University are inscribed on a replica of the original Waterford crystal trophy that is permanently on display at the Bel-Air Country Club.
Harmon was indeed a friend of golf, covering the sport on TV as a broadcaster, appearing in the 1953 movie 'The Caddy', and certainly played his share.  And he went out on top–he died in 1990 at age 70 after winning a golf tournament at the Bel-Air Country Club.  Sadly Harmon wasn't around to see the first recipient of the prize he inspired.
The seller is asking $250 for the righteous flat stick.  If any MVictors benefactors out there want to buy it for me I'd like to have this in my bag!
Elsewhere on eBay:
A schedule from the Wolverines' 1933 college national championship team.  It was probably from a matchbook cover.  I love this part – so where were the games played that year?  Either "HERE" or "THERE"!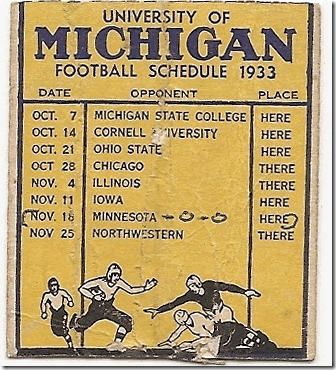 As indicated by the original owner, the mighty Blue crew played Minnesota to the 0-0 deadlock in 1933, retaining the Little Brown Jug and retaining the national title.  (The Gophers won the next three national championships FWIW).