A quick edition of eBay Watch highlights another great wire photo, this time from the late 1930s featuring my dream girl.  It's the Tournament of Roses Queen Barbara Dougall posing with her crown holding a team photo of none other than Fielding Yost's first and perhaps finest team, the 1901 squad that started the Point-A-Minute reign of terror at the turn of the 20th Century.  Check it out: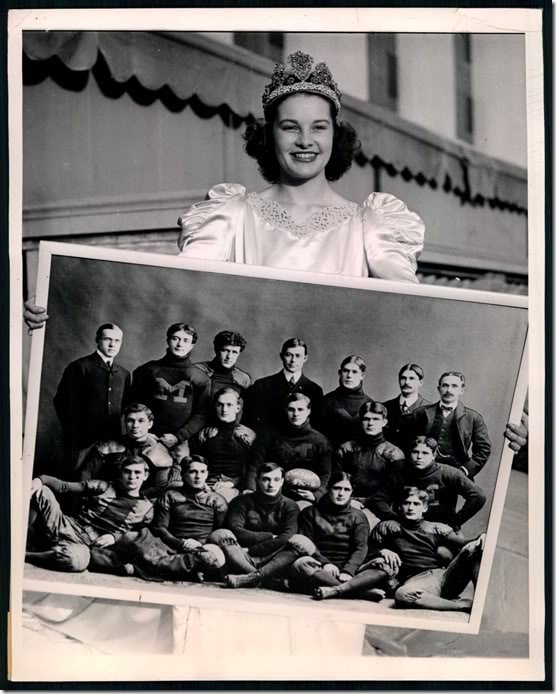 Babs, you're my kind of gal!
Digging around a bit in the Google News Archives, it appears as though the large 1901 team photo was donated by a  "E.H. Rathburn, Michigan Alumnus".  Well done.
Michigan didn't participate in the 1939 Rose Bowl (USC beat Duke 7-3) so I'm not positive why Dougall choose to flash this great photo.   A guess?  It looks like this was the 25th time they held a football game as part of the Tournament of Roses, and someone had the idea to take a nostalgic look back at the first Rose Bowl game and its champion, namely Yost's perfectly dominant Wolverines.
Act fast, the auction ends soon and the photo is listed for $9.99.
–>  Follow MVictors on Twitter  <–
Related:
eBay Watch: 1901 Season Football Pass
eBay Watch: Rah-Rah-Rah Rose Bowl Rout
eBay Watch: Some Vintage Rose Bowl Cheer (1902)