[Ed. November 10, 2012 – The Wistert Brothers enter the Michigan Football Legends Program]
A truly unique item leads this edition of eBay Watch.  It's auction of the U-M student identification card for the 1931-32 school year for the first of the legendary Wistert brothers: Francis Michael 'Whitey' Wistert: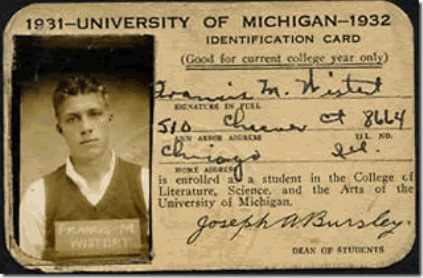 "Say Cheese!  Fine, just sit there Mr. Sweatervest."
As the card indicates, Francis was a Chicago native and after graduating from high school worked in a factory building radios.  A decision to tag along with a classmate on a visit to Ann Arbor effectively kicked off the Michigan-Wistert tradition.   Several online references claim Whitey had no football background before coming to Michigan, but he is enshrined into his high school Hall of Fame for "Baseball and Football".   Oh and yes, he could also play some baseball—he was named Big Ten MVP his senior season.
Whitey anchored the line for Harry Kipke's back-to-back national championship squads in 1932-1933, and the 6-2, 210 pound stapping lad was named All-American in '33: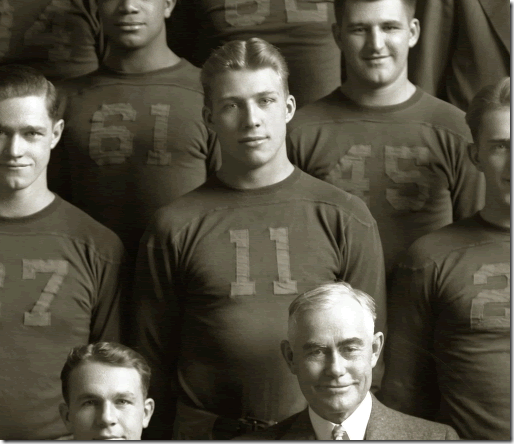 I've written on the Wistert Trio before but in a nutshell, each played football for Michigan of course, each played tackle, each wore 11, all three made it into the college football Hall of Fame and they are the reason you won't ever see another U-M football player wear jersey number eleven.
The seller is asking $250 or best offer to the Wistert ID card.  Also included is an ID from 1938 when Wistert returned to assist Harry Kipke and his staff: