After a bit of a lull on eBay, action has picked up a bit. I typically stick to Michigan memorabilia but as of late there's been some doozies from our rivals, including the Biggie Munn stuff I covered a bit back.
We'll now turn south to Columbus as someone with a collection of old letters from the great Woody Hayes has been posting auctions as of late. This one might be the best eBay Watch item of the year.
It's a missive crafted by Dr. Strangehayes himself with a recipe for success in this tough world: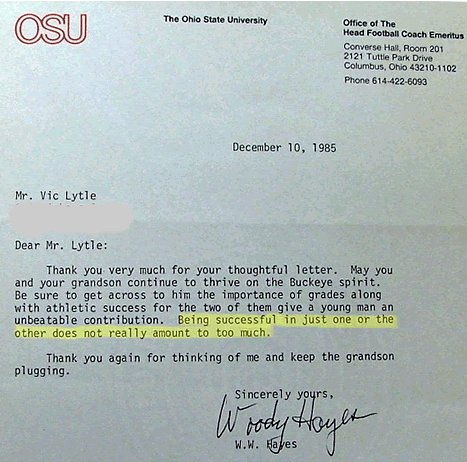 I LOVE THIS! With all respect for the late Buckeye legend and Bo's mentor, old Woody was a true beauty. For students at Ohio State Woody's advice might be spot on: don't rest on the laurels of a degree from Columbus.
And while there's certainly something for achieving a balance in life, the occasional bookworm has emerged from the library to go on to better things:
If you love this as much as I do, here's a pdf copy that'll print nicely.