This week on eBay this beauty popped up on eBay–it's a 1940s-era WPAG wall clock: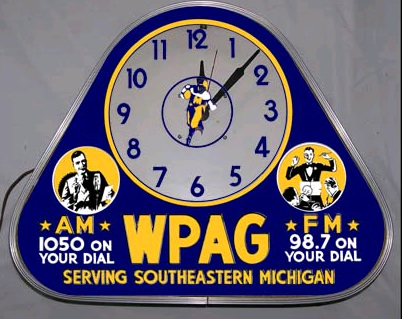 I didn't that know WPAG also broadcasted on FM which is always cool. You can hear the Lions and Tigers on 97.1FM these days and it's a treat, except of course that it's the Lions and Tigers playing. The clock depicts a maize and blue football player on the clock hands, a guy reading a script over the airwaves to the left, and a maestro conducting a band on the right.
It doesn't appear as though this is an original, from the auction description, "It is the identical duplicate of the original production made back when swing and jazz was as hot as the city of Ann Arbor Michigan and the U of M football team." Oh, and the person selling the item noted the Blue and "Maze" design, so this is clearly an avid M football fan.
WPAG was the original call letters for the local Ann Arbor radio station that covered U-M athletics; you may have seen ads with the legendary voice of Michigan football, Bob Ufer, and WPAG on this site before: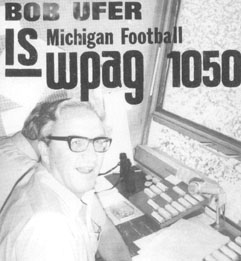 The call letters of the station changed a few times, ending with the current WTKA when the station went to an all sports format around 15 years ago. Check some of the history from the WTKA Wikipedia entry, it's actually kind of interesting, note the Ufer reference:
First on-air as WPAG in 1945, the station was the first licensed to Washtenaw County, with studios on the third floor of the Hutzel Building, at the corner of Main at Liberty Streets in Ann Arbor. Owned by brothers Paul and Art Greene, the call letters WPAG were selected to reflect their names. (For many years there was a ladies lingerie and apparel store down on the Hutzel Building's first floor, which caused long-time University of Michigan football broadcaster Bob Ufer to joke that WPAG really stood for "Women's Panties And Girdles".)

Meanwhile, the radio station went through a series of formats. WPAG played Top 40 music for much of the 1960s, then transitioned to a full-service format featuring MOR music in 1968. By 1982, WPAG was an adult standards station featuring Satellite Music Network's Stardust format, then changed to country music a short time later.

In December 1987, WTKA was purchased by Tom Monaghan and had its calls changed to WPZA — a nod to Monaghan's thriving Domino's Pizza business. In late 1992, Monaghan (who now owns Ave Maria Radio, including Ypsilanti's WDEO), sold WPZA to the MW Blue Partnership; eventually, it went to Cumulus Broadcasting and then to Clear Channel Communications, who flipped the station to all-sports WTKA ("The Ticket").
And the rest was history but you can still buy a piece of the past with this clock. The seller put a Buy It Now price on this thing of a whopping $976.00! At least shipping is free. For that price, I'd want the late Bob Ufer himself to come over and deliver to me on horseback. Whomever buys this beauty is either a serious collector in a dimension I just don't understand, or a cat with a lot of idle cash: