The next edition of eBay Watch starts with a very nice trinket the seller claims dates to the early 1920s, possibly 1923.  The "pinback", made in Germany, includes an old school maize and blue badge along with a wooden pigskin: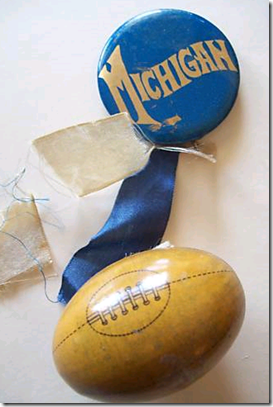 From early photos and films I know these type of souvenirs were pretty popular on game days back then.  You can even see a transaction for a pin or rabbit's foot or something going down in the Stadium dedication video from 1927 (one of my favorites) pulled together by WolverineHistorian: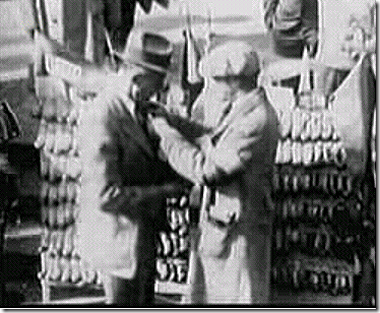 "Here you are my good man, one 'Spuck the Fartans' pin.  2 bits please."
1923: Yost's Last?
Prior to the season word got out that the season would be Fielding Yost's last at the helm of the Wolverines.   Beat writers weren't convinced, even up to the final game of the season.  Earlier in October the Chicago Tribune ran a column titled, YOST'S RETIREMENT ALL BUNK, AS USUAL: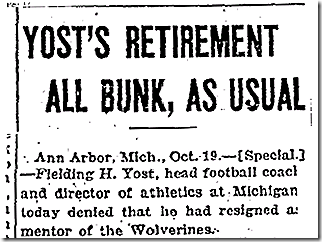 Apparently the reports of old Yost calling it quits were a bit of a theme, enough so to go with the snickering headline.  Perhaps headlines like this one in the New York Times all the way back to 1907 explain: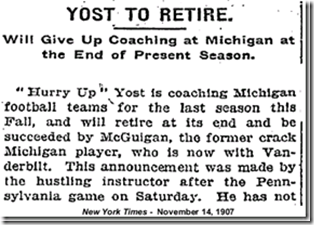 Despite the skepticism Yost really did hang them up at the conclusion of the schedule.  The players made sure they sent 'Hurry Up' out on a high, running the eight game table while outscoring opponents 150-12.  The Wolverines were recognized as national champions, sharing the honor with Illinois.   After the season Yost threw on a fine suit and posed for the team photo next to captain Harry Kipke, who would go on to coach the great Michigan teams of the early 1930s: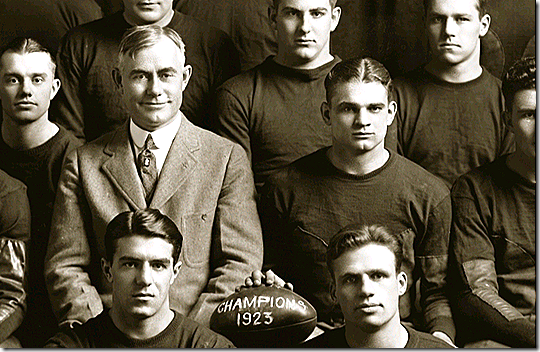 Is that Kipke's hand on the ball or Thing from the Addams Family?
Yost Returns for the Ghost
Yost did indeed hang up the whistle but only for one season.  After watching Illinois' Red Grange legendary six touchdown performance against his Meechigan, Yost decided return to the sideline for the rematch in 1925. 
As described in Bruce Madej's book Champions of the West, "For 12 months, Yost schemed how to bridle Illinois' Galloping Ghost. He replaced Michigan's unsuccessful six-man line of 1924 with a seven-man front and a diamond-shaped secondary."
When the teams met in October of 1925, the 'Wheaton Iceman' was stifled, mustering a mere 55 yards as Michigan shutout the Illini.  A Benny Friedman field goal was all the Wolverines needed to prevail 3-0. 
Yost would coach one final season (really this time) in 1926 and dedicated himself to the athletic director position, spearheading the transformation of Michigan's athletic campus.
The auction of the pin ends July 12th.  Current bid price is $23.50.
Elsewhere:
| | |
| --- | --- |
| | Oh piss.  More of the personal effects of former Minnesota player, Michigan assistant and MSU legendary head coach Biggie Munn are being schlepped on eBay.  Recall the auctions of some items from June last year.  Here's a few of the items, click to see the auctions: |