With more than a nip in the air the past couple weeks it's time to turn to alcohol. This edition of eBay Watch features a 1934 Michiganesian yearbook features photos from the 1933-34 school year and athletic seasons. Often the yearbooks are dated with the year the school ends (not begins), therefore for football purposes this beauty contains recaps and photos of the 1933 national championship season, not 1934, arguably the worst season in Wolverine pigskin history. Current bid is around $50.
The value of the yearbook is certainly lifted by the presence of president-to-be, Gerald Ford, here in his Delta Kappa Epsilon fraternity photo: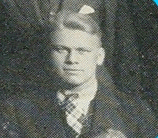 The seller shows a few photos in the auction but the highlight is this–some type of cartoon the yearbook staff thankfully included: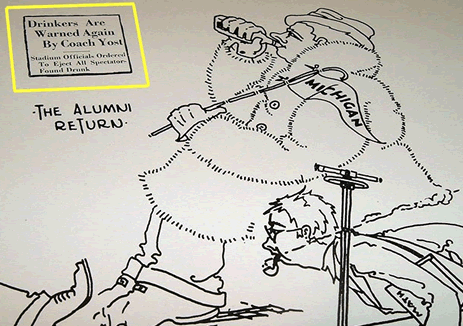 I love it. Above notation "The Alumni Return", the the box reads, "Drinkers Are Warned Again By Coach Yost. Stadium Officials Ordered to Eject All Spectators Found Drunk", and the cartoon depicts a happy fellow in a raccoon coat chugging a bottle of the good stuff.
While this was clearly part of the 1934 yearbook, it's possible it was some sort of nostalgic piece from earlier school years.  Why?
Fielding H. Yost probably would have been referred to as "Director Yost" if this were written in 1933 or 1934.
This school year featured the end of Prohibition with ratification of the 21st Amendment on December 5, 1933, although Michigan state law approved the sale of 3.2 percent alcohol earlier that year.  I know people still drank in Michigan thanks to the Purples, but I wonder if drunkenness was so rampant on campus that it prompted a PSA from Yost.
But…I'm not sure.   Great coaches often are called "coach" throughout their lives, and consumption of the 3.2% might have been rampant as students and alumni clamored for the sweet taste of the formerly forbidden fruit. Here's the full auction.