In the past couple years I've featured posts on Fielding Yost busting the Galloping Ghost and highlighted a program from the 1953 Football Bust which featured autographs from a few of the Yost's finest players. 
Thanks to reader Craig B., this edition of eBay Watch takes a look at a statue bust of the old coach as presented in a wire photo: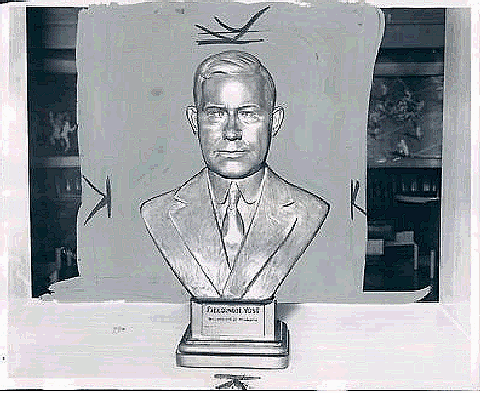 Along with the note, Craig asked an excellent question:
So, what we know from this is that there was a bust of Yost in Yost Field House, but I have never, in my life, seen it.  Do we know where it is today?  Can we get it put back into Yost?  Am I just missing it somewhere?  Anyway, I shall eagerly await any potential news you have on this, in post or reply form.  Thanks much!
The photo is dated October 27, 1927 and if I had to guess at the blurry plaque below the bust, it reads "Fielding H. Yost – illegible – University of Michigan – then I think it might say, 'University of Michigan Club of Chicago' – 1927: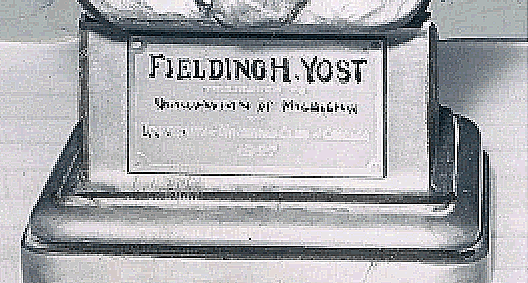 As Craig points out, the auction description hints that this statue might have been associated with Yost Field House but given the date of the photo itself, it may have been presented to Yost at or around the Michigan Stadium dedication game which occurred just five days prior on October 22, 1927. 
While Fielding Yost was certainly responsible for the building of Michigan Stadium (this is wonderfully chronicled in Robert M. Soderstrom's 'The Big House' book), he already had a building bearing his name—the Field House sitting on the horizon northeast of the stadium.  Folks found other ways to honor the 'Old Man' in the wake of the stadium dedication, perhaps this bust was one of the prizes bestowed upon him.  According to The Big House, a group of donors chipped him and bought him a beautiful eight cylinder Packard car, and she was a real beaut: (M photostore):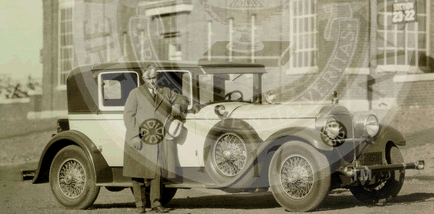 According to Soderstrom, Yost "was most moved by a gift of 26 silver goblets, each one presented by a member of the 26 Michigan teams he coached."  Wow.
But the question remains – what happened with with this statue?  Is somewhere on campus or with Yost's family?  I emailed Greg Kinney at the wonderful Bentley Library and hopefully he has some ideas.
The auction ended recently and no one bid the $9.99 starting price for the photo.
[Ed.  Craig B. points out post-post that the back of the photos reads '1947', which would put the stadium dedication so…I could be something offered up after Yost died the year prior, who knows?]
Related:
eBay Watch: Big House Dedication (1927)
The Big House: Fielding H. Yost and the Building of Michigan Stadium (from Amazon)