Check out the auction of this 1945 piece by sports cartoonist Gene Mack, featuring a few of the "pet plays" by a few legendary college football coaches: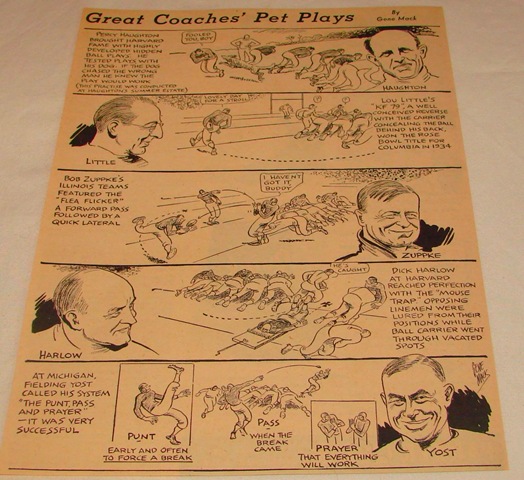 Two sections stood out.  First of course, our Grand Old Man Fielding H. Yost is featured for his "Punt, Pass and Prayer" strategy:

My pal John Kryk described the three-P strategy, a tad different than Mack's interpretation, in the great Natural Enemies:
Yost was still employing his beloved kicking game in the 1920s.  The press was now dubbing it the "punt, pass and prayer" offense: punt away as early and often as possible, pray you force a turnover, then unleash all your trick pass plays.  This offense was run out of the "punt formation"—what we'd call the shotgun formation.  One halfback stood about seven yards back of the center, while his backfield mates arrayed themselves closer to the line.  The ball could be snapped to any one of them.
Of course Yost couldn't fully deploy this strategy during the early days in Ann Arbor since he couldn't toss a forward pass.  One of Yost's favorite and most skilled punters was my man Harry Kipke, who of course later became head coach and indeed deployed a bit of punt, pass and prayer on his championship teams.
The other cool strategy features one of Yost's rivals: legendary Illinois coach Bob Zuppke and his "flea flicker".

Zuppke is credited with a few football innovations including the flea flicker, but it doesn't seem to be what we call the flea flicker these days.  As the cartoon depicts, it was more like the 'hook and lateral' play made more recently famous by the 1981 Miami Dolphins.  As described in his biography, "The flea-flicker was a forward pass followed by a lateral to a running back."