Next on eBay Watch, it's the auction of a wonderful signed photo of Fielding H. Yost posing next to a vintage car in front of the original Michigan Stadium press box: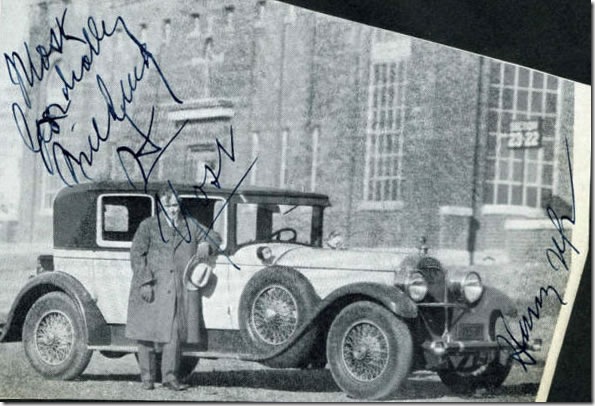 "Most Cordially, Fielding H. Yost – Hurry Up"
According to Robert Soderstrom's The Big House, the car is an eight-cylinder Packard, a gift to Yost from "several hundred alumni" on the day before the new stadium was dedicated in October 1927.  Yost personally wrote each of the donors:
After two days use I have a great appreciation of the very fine Packard car and all it means to me and Mrs. Yost.  Many memories of my twenty-seven years at Michigan and the fine Michigan men I have known and learned to love have come to me as I have driven over the beautiful hills around Ann Arbor.  Words cannot express to you and other how much I value all these associations.  Forever for Michigan.
The seller is asking $2,750 for all the items in the auction, which includes the Packard photo along with the autographs of each Michigan football coach from 1900-1989.
The same seller is offering up a few signed items from famous Michigan athletes, including this auction of a unique autographed pic of Wolverine great Willie Heston.  Never seen this shot before: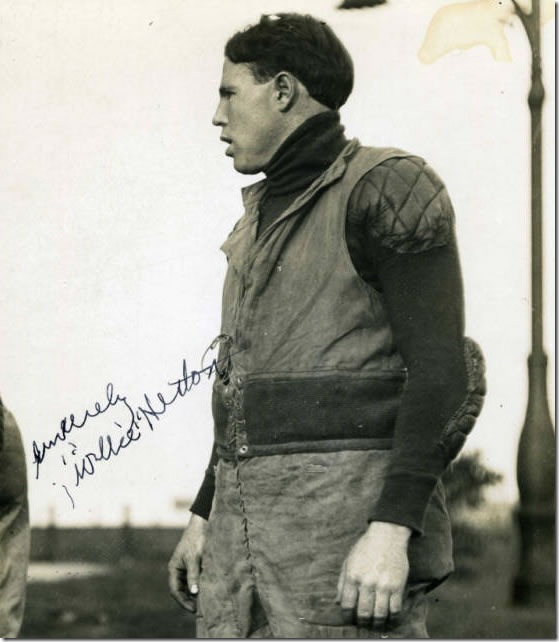 Not sure what is prompting this seller to put these items out there, but he's swinging for the fences, asking $2,000 for the Heston shot alone. 
In a third auction he's offering up a dizzying array of autographs from vintage Wolverine greats, asking $4,000.  Includes:
Willie Heston (1903-04), Germany Schulz (1907), Stanfield Wells (1910), James Craig (1913), John Maulbetsch (1914), Ernest Allmendinger (1917), Cedric Smith (1917), Frank Steketee (1918), Henry "Ernie" Vick (1921), Harry Kipke (1922), Jack Blott (1923), Edliff Slaughter (1924), Bennie Oosterbaan (1925-27), Benny Friedman (1926), Otto Pommerning (1928), Maynard Morrison (1931), Harry Newman (1932), Francis "Whitey" Wistert (1933), Charles Bernard (1933), Ralph Heikkinen (1938), Tom Harmon (1939).
While the items signed range from contracts to letters to 3 X 5 cards, also included is this great shot of Tom Harmon, again, one I don't recall seeing before.  And I'm scratching my head on where the photo was taken: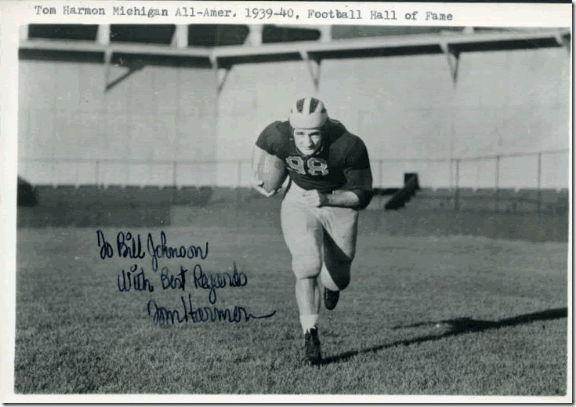 Another item of note is the back of a ticket stub (per the seller: Penn vs Mich Oct 26, 1940) signed by one of Yost's early great players, Germany Schultz: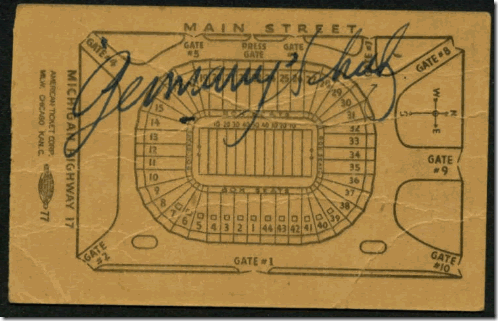 As an aside, I've seen enough of Heston, Yost and Harmon signed items to tell you they definitely look authentic.  I'm not sure I've ever seen anything signed by Schultz. 
Follow MVictors on Twitter