Fielding Yost dedicated the good years of his life to University of Michigan athletics but his influence and business interests stretched beyond Ann Arbor.  He wrote books, appeared in movies, spoke all over the country and even added his name to certain products. 
This edition of eBay Watch starts with the auction of a vintage 1920s-ish leather helmet, the design approved by the Grand Old Man: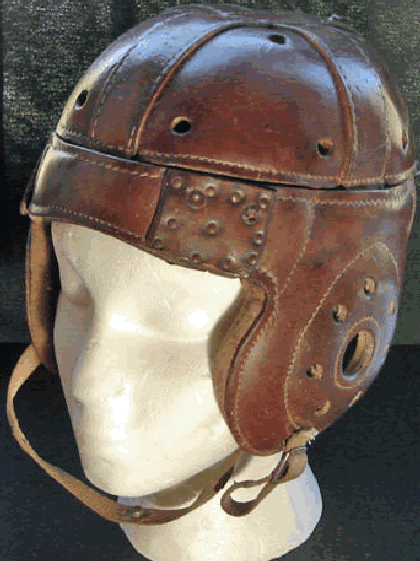 The back of the helmet, produced by A.J. Reach of Philadelphia, even bears Yost's signature with his popular nickname "Hurry Up":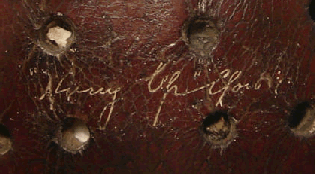 The signature on the back of the helmet.  Top right, a Yost autograph from the 1940s
The helmet appears to be a part of a whole line of football equipment produced by Reach using the brand name of Yost and another big name coach at the time, "Tad" Jones of Yale: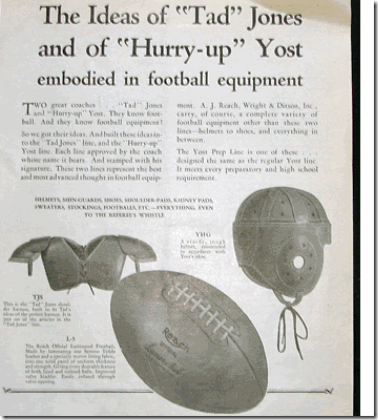 Since you know I'd love to see one of these helmets in action, I couldn't resist: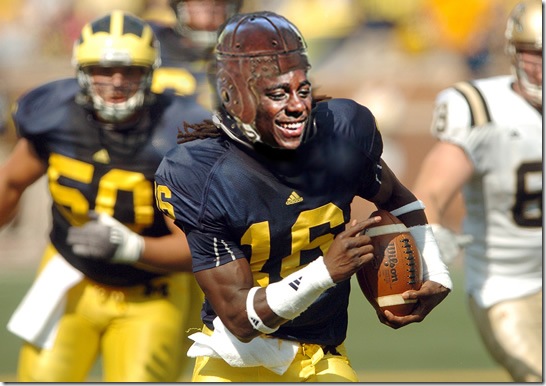 The auction for the helmet ends April 29 and has already fetched several bids putting it over $150.  I'm guessing it'll fetch close to $500.
Other Yost Stuff
A couple of very cool postcards from Yost's early years on campus:
Related:
Fielding Yost Through the Years 1901-1940 (YouTube video)
Michigan's Grand Old Man Laid to Rest
Norm Daniels' 1931 Michigan Jersey
Suit Up like One of Yost's men