There's certainly many ties to U-M at the Olympics once again this year.  Jack Johnson is on the ice, cameras are constantly cutting to Michael Phelps in the stands, and the male portion of the U-M student ice dancing teams even were shown flashing an 'All In' towel in a photo shown on NBC last night. 
While I'm not sure if Fielding Yost ever made it to an Olympic winter games, I had to repost this photo of the West Virginian working on his curling skills in 1940: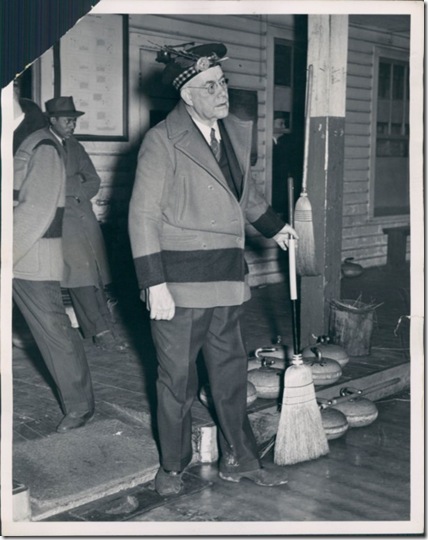 Michigan's Grand Old Man looks a bit like he misses the gridiron.
As an aside, I've noticed a few folks on the Twitter note they are getting sucked into the curling.  I was on a plane this weekend with a choice of many shows/movies/tv channels and went with the USA vs. Great Britain curling match.  I couldn't look away. 
I also dig watching the short track and I give mucho props to Ohno, but I have one concern: What's really the difference between the 1000 and 1500 meter short track events?  To me, they just cut to the chase a tad quicker in the 1000 meter, right?   Are they really separate disciplines worthy of separate medals?