We know the October 31, 1903 game Michigan played at Northrop Field in Minnesota spawned the Little Brown Jug rivalry.  It was also the hottest ticket in town.
The accepted attendance is an even 20,000, although Northrop Field only sat 8,000 in its 33 row grandstand.    That doesn't include the short stands in the end zone but that doesn't explain how an extra 12,000 got their peepers on the famous 6-6 tie.
Thanks to this shot the folks at Minnesota media relations forwarded over to me tonight, you get a sense for the lengths folks went to see this one: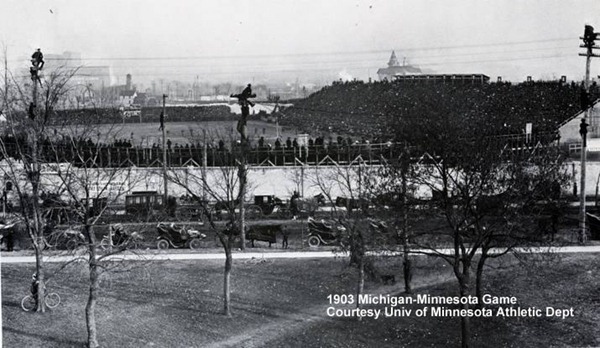 I think I need that on my office wall.  
Righteous Stub
So we know approximately 20,000 witnessed the famous clash and we do know that the gross receipts for the game were precisely $30,933.50 (with the Wolverines netting a $13K cut).  Assuming the ducats, based on others from that year, were probably about two bucks, it's fair to assume Doc Cooke's athletic department produced somewhere between 12,000 and 15,000 tickets.  
This leads to one missing piece of Jug Lore—I've never seen a ticket stub to the 1903 Minnesota-Michigan game.
I polled a couple of the most famous U-M memorabilia collectors.  Jack Briegel, who owns a ticket to every game played in Michigan Stadium and many more emailed me confirming that he's doesn't have one and in fact, he's "never seen a ticket from that game."
Ken Magee, who runs Ann Arbor Sports Memorabilia and owns an extensive vintage U-M collection, hasn't seen one either. 
I reached out to the U-M Bentley Library (they do have a collection of tickets) but I don't think they have one.  Paul Rovnak of University of Minnesota media relations wrote to me and said they don't have a ticket from the game either.
My guess?  Someone out there has a ticket stub to this game.   Reveal yourself(!)..and become a piece of Little Brown Jug lore.
Follow MVictors on Twitter