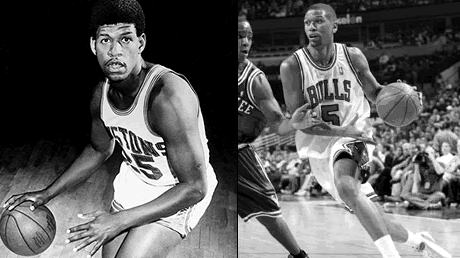 No DNA test needed: Jimmy Walker and Jalen Rose
Tonight at the Palace they are announcing the 30 member all-time Detroit Pistons team. Representing his deceased father Jimmy Walker will be my classmate, fellow Michigan graduate Jalen Rose. Walker died last year due to complications related to lung cancer.
It's a cool thing for Jalen to do this and I assume this will be pretty emotional. So sad as the two NEVER MET. It looks like they were supposed to right before Walker passed on. Here's a passage from an ESPN piece last year:
So this funeral on this July afternoon represents the first time Rose and Walker have shared the same room. Yet even now in Walker's death, Rose is unable to set eyes on the man who gave him life. Walker, his body ravaged by lung cancer, has been cremated. Rose is able to look only at a photograph of Walker perched next to an urn.

Later, at a gathering of Walker's family and friends, Rose is asked about his earlier moment of silent reflection.

"I was hurt, saddened, and selfishly disappointed that we never got a chance to meet," says Rose, who then lowers his head and closes his eyes. "You want to know something? We were supposed to meet this month, we were supposed to meet this month."
Mitch Albom touched on Jalen's relationship with his father in his book The Fab Five:
Jalen bit his lip. He had heard of Jimmy Walker, mostly from his brothers and sister, but until that moment, had never seen the man play basketball. Now, in that office, he felt a surge of something. Anger? Pride? Destiny? He left the gym, but he couldn't stop thinking about it. A few weeks later, he found a bubble gum card of his father's career, and he kept it in his pocket wherever he went. Sometimes, in outdoor pickup games, he would reach back to finger the card, and say to himself, "I'm gonna be you today." He would see that figure on the office wall, hear the projector clicking softly.

Although he never told his mother about the card – she never spoke about Walker, and he respected her silence – he took it with him everywhere, and would flash it sometimes like a badge, to gain entrance to the playground when the older kids had the court.

"Go on home, you too small."
"I ain't small. Check this out."
"Jimmy Walker?"
"That's my father."
"You Jimmy Walker's boy?"
"Un-huh."
"Well, come on then, let's see if you can play like him."
If you don't own a copy of the Fab Five, I found a long excerpt including this section here.
Jalen is a pretty slick and beyond media-savvy, but I wonder if this will be tough for him. My guess is that because this isn't a Walker tribute and there are 29 other guys being honored, that J will roll with it. We'll see. But it's just another example of Rose being a stand-up guy.