College football beat writers are loving the access to Schembechler Hall. SI.com's Stewart Mandel just published a summary of the state of affairs in Rich Rod's camp.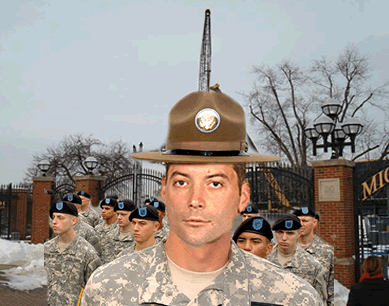 ESPN's Bruce Feldman dug in a little deeper. He was camped out at practice for the last few days and even appeared on WTKA on Wednesday morning. Yesterday he unleashed a Q&A with everyone's hero Mike Barwis. I'm not sure if the interview is available to everyone, so here's a few beauties:
Feldman: How patient do you have to be when you take over a new program?
Barwis: I love challenges. I'm a person who really loves to rebuild things, redesign things and work hard to take kids to a physical level they've never played at before — or where they don't think is possible. It was funny when we first started working out, we'd hear 'em saying "Holy s—, there's no way in hell anybody can go through this."

And I'm thinking, boy, you've got no idea. We're just beginning. That first day, guys were falling out doing sprints and I said, "Guys we're just learning, and we're just warming up. This is a warm-up." But you know what, by the end of that eight weeks, their confidence was higher. They physically felt better. They started to hear from guys who have been around the program for years, "You guys have never run like this. You look fast. You look explosive."
And on all the internet love (as my heart is thumping out of my chest):
Feldman: What do you make of all the people talking about you here and the traffic you're generating on the Internet?

Barwis: I really don't pay attention to a lot of that stuff. We've always had a lot of support, and that's largely because we've had a really good staff. They do a tremendous job. I'm probably the weakest link. I just give everything I have. I do the job because I love the kids. I love helping them out and trying to push people to help them attain their goals in life, not just in weight lifting, but to be a better student, to be a better person, to be a better boyfriend or husband, to be a better man. We want to teach them that they have strengths that they didn't even know they had. We can change a mind-set and change an outlook and an attitude of what you are and what you can be. The reward for me is watching a kid become something in life.
I believe we can expect more from Feldman, who I hear is also friends with Rodriguez and Barwis.

Elsewhere:
* Jake Long does Rome is Burning
* Rodriguez makes headway in his suit
* Angelique on Saline's Nick Sheridan