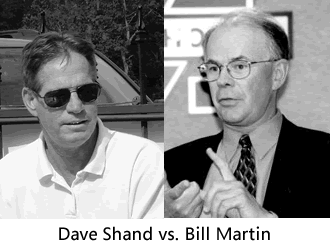 AD Bill Martin's motion to dismiss the case brought against him by former WTKA morning show host Dave Shand was denied today. U.S. District Court Judge Julian Abele Cook, Jr. published the following decision today:
"Martin's motion to dismiss must be, and is, denied. The Court finds that Martin is not entitled to qualified immunity at this stage of the proceeding. Furthermore, Shand's First Amended Complaint has sufficiently set forth a claim upon which relief may be granted.

Martin's motion for summary judgment must also be, and is, denied in its entirety. The Court finds genuine issues of a material fact exist with regard to each of Shand's claims."
Shand's complaint against Martin is summarized in the order as such:
The complaint, as amended, alleges that Martin informed the management at WTKA on April 19, 2007 that "he would not allow" the radio station to cover a charity golf match at the University of Michigan if Shand was assigned to cover the event as a broadcaster. Shand also contends that Martin threatened to terminate WTKA's right to broadcast the University of Michigan football games unless he was fired as a broadcaster with the radio station. Several days later (April 23, 2007), Shand was relieved of his duties at WTKA.
The court order provides a view into some of the documentation submitted into the case, including a few of the statements made by folks involved:
– Shand's affidavit mentions a discussion he had with WTKA program director Brian Cowen where Shand was told, "[the controversy] was between you and the Athletic Department, and we needed the Athletic Department more than you."
– Cowen and WTKA station manager Bob Bolak submitted statements completely denying Shand's claims. The court order mentioned portions of Bolak's declaration which states:
"At no time did Mr. Martin, or anyone from the University of Michigan or on their behalf, request that WTKA-AM terminate the employment of Mr. Shand. At no time did Mr. Martin, or anyone from the University of Michigan or on their behalf, issue any kind of threat to WTKA-AM to terminate any broadcast right if WTKA-AM did not terminate Mr. Shand's employment."
– Further, Bolak maintains that Shand's firing "had absolutely nothing to do with William Martin or the ability of WTKA-AM radio station to continue to broadcast University of Michigan football games."
– Shand submitted an alleged email thread between Cowen and Cathy Roglitz, one of the golf event organizers, where Cowen stated, "[if] it your desire that WTKA not be involved [with the golf outing] because of our morning show, I do need you to advise me as such," as "[w]ith our staffing levels, and in all fairness to our personalities, it is not possible to preclude anyones [sic] presence." Roglitz replied, "…the limitations are not on WTKA as a whole. However, I have received a very strong directive from Bill Martin via Jamie Morris re: the participation of Dave Shand as recent as Tuesday morning prior to our meeting." Makes you wonder how Shand got his meat hooks on this email thread but it's a doozy.
– Martin's attorney did get a statement from Roglitz that "at no time did anyone from the University of Michigan athletic department communicate to me that they desired to see David Shand terminated.."
– After Shand was given his walking papers, Cowen allegedly emailed Roglitz back, "We have had a change in staffing here at WTKA and will be able to help you with your golf outing unabated."
– And check this out. The court reviewed an affidavit from Rebecca Bogoski, a business manager for the station, who maintains that "approximately three to four days before his involuntary termination, Shand's personnel file did not contain any notices of counseling, misconduct, warning letters, or listener complaints of any kind."
As far as a trial date, Shand's attorney Nick Roumel advised, "The court will probably send a scheduling order out soon."
More coming soon. For history on the Shand case, click here.