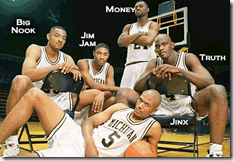 Per the hustling Mark Snyder of the Freep, the Fab 5 reunion that was scheduled to be at the Motor City Casino before being canceled this week, is back on, with a change of venue (via BiggieMunn).  The deets:
The "Celebration of Michigan Sports" event, hosted by members of the Fab Five, will now take place Saturday at Detroit's Elysium Lounge, organizer and former Michigan basketball player Jimmy King said today.
Elsewhere:  Check out Snyder's piece on the Michigan coaches' scouting report on UConn.  I wonder if Beilein and Izzo actually spoke about this.