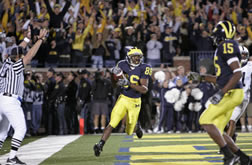 Michigan reverses fortune with final second win
SALINE, MICHIGAN OCTOBER 15, 2005 This team is getting pretty frustrating to watch. Nothing is coming easy for them, so it's nice to take this one away as a win. The three loses clearly could have gone either way, and now Michigan's two big wins are in the same category.
Chad Henne drilled a pass through the Penn State secondary on the final play of the game, right in the hands of Mario Manningham for another glorious Michigan come-from-behind 27-25 win.
This presents another chance for Michigan to redeem themselves and somehow the downtrodden Blue is still in the Big Ten race, at least for a share. A lot of this they control: Michigan needs to beat Iowa, Northwestern and Ohio State and hope for at least 1 more loss out of Wisconsin or Penn State. PSU hosts Wisconsin on November 5th. My take: Michigan will stumble again.
Here's some takes and theories on this game:
– This Season. It seems every major game is coming down to the final few plays, and in most cases, seconds. It really shouldn't be, Michigan should be putting these teams away. M is getting into a cycle of surrendering double digit leads and having to attempt a comeback. Twice they've pulled it out (MSU, Penn State), and twice they've failed (Minnesota, Wisconsin). I can't take another game like this.
– Nittany Knuckleheads. Ok, Michigan won the coin toss and deferred to the second half. Opening the 2nd half, M of course took the ball, and Penn State had the choice of end zone to defend. The Lions chose to defend the North endzone, meaning in the fourth quarter they would have to head that direction which was a) into the wind, and, b) into the student section. And the wind was definitely a factor. In fact, this revealed itself and compounded another stupid decision: to kick to Steve Breaston with under a minute to go. The ball sailed against the wind and landed around the 7 yard line. Breaston, who was a huge factor in this game on special teams, took the ball just short of mid-field to set-up the winning drive.
– JoPa, the figurehead. It is pretty clear that Joe Paterno really isn't at the helm of this team, as Lew says, he's just a figurehead. His job is to yell at the refs (apparently on every play), and to cheer. Here's some evidence: When asked after the game what was discussed in the final defensive huddle (with :01 on the clock), JoPa said that players were told to "suck it up", but midway through the explanation offered, "I don't know…right now all I am is PO'd." Sounds like he's also a bit confused. Does that sound like a guy who is running this team? The band director could have said the same thing about the final huddle. More evidence: the Penn State fans spelled out P-A-T-E-R-N-O on their chests. I know they love him, but he's like a mascot. He doesn't wear a headset, he seems to wander several yards away from the action during the game. Speaking of the PSU band, props for laying down some Usher and tunes by other contemporary artists.
– Final Play. Good route, perfect pass, in an instant this became one of the greatest games in Michigan history. Looking at the replay, Penn State blew the coverage. The guy on Manningham dropped but cut off his coverage about 4 yards into the endzone. The strong safety (or linebacker), probably should have dropped back to cut off that play but didn't. The guy on Manningham who cut off his route looked at the safety and seemed to yell something just after the TD. Give M some credit, they ran two receivers into the middle and they occupied at least three Penn State defenders.
– O Line, Avant. They are depleted, beat up, and overall had an average game. But, in the last drive, they basically left Henne untouched and allowed him to direct the ball around the field. This was critical because a sack or two may have ended the game. Also some mention of WR Jason Avant is warranted. He made some great grabs, including the toe dance to get a first down the first play of the epic final drive.
– Conservative Henne. It is clear to me that Henne is programmed to not make mistakes, and he's good at this. This is fine, but maybe he's too good because his decision making in the final few plays was suspect. Michigan definitely should have thrown the ball toward the end zone instead of the little dumps he tried. It's tough to be critical of the guy that through a bullet to win the game, but it is what it is. By the way, Ann Arbor News reporter John Heuser described the final play in his column and said the "Manningham leapt for Henne's pass". There was no leaping involved; the ball was in his chest, in stride. The real leaping occurred when Avant did a Lambeau Leap into the student section.
– 4-3 Party Time. Lew mentioned he was a little embarrassed about the intense celebration that went down after the final play, especially given our 4-3 record. It's tough to argue, partying like it was 1999 isn't very Michigan-like, but I'm glad these kids are having fun.
– Ross Ryan. In a weekend of some major special teams blunders (MSU vs. Ohio State), and the worst of all, the blown Minnesota punt against Wisconsin, give Michigan punter Ross Ryan some credit – he had a great game. Makes you wonder why they didn't let him him punt it late in the fourth quarter, but that's a different issue:
– Coaching. Everyone is gushing over Lloyd Carr now. Carr himself admitted to hearing all the critics and went off on people that have attacked defensive coordinator Jim Hermann (translation: he was defending himself). I'm sorry coach Carr, but eeking this win doesn't suddenly make you a genius. Once again it shouldn't have come down to this. With around 3 minutes to go, M had the ball and basically sat on it, forcing the horrible pooch punt by kicker Garrett Rivas. For the record, that ball went out around the 25 or 30 yard line, not the generous 19 yard line where the official marked up. I have two major issues with this: with over 3 minutes to go, it is not really the time to be strategizing on simply how to eat up Penn State's timeouts. At a minimum, Michigan should have thrown on third down to put Penn State away. When the third down run failed, Michigan tried to "fool" Penn State by lining up for a long field goal. The snap went right to Rivas (risky), Rivas caught it (risky), took one step and lined it out of bounds (poorly executed). This was frustrating.
– Next Week. A tough one at Iowa. M has not won back-to-back games this year (it's gone WLWLWLW), they'll need to continue to win to preserve this season.