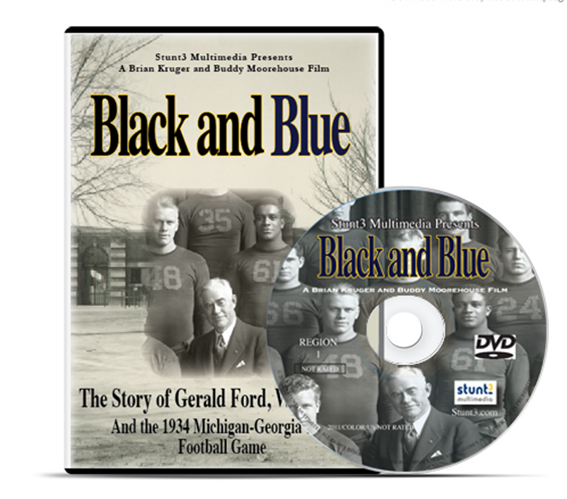 This is something I've been pining for since at least 2009, here's proof via this mgo-guest post:
Willis Ward:  The African-American end and U-M track star was Gerald Ford's roommate for road games and a member of the '32 and '33 national championship squads.  This man's story deserves a full documentary or movie, not a blurb on a blog post, and it's safe to assume he gave some interesting remarks to the banquet crowd…
Blue and Blue is done and it will debut soon.  I even contributed to it in a small way (or a big way if you count circumference of head with respect to screen size).  I've seen the full length version and it is very well done—you can get a copy now (with free shipping for MVictors readers).  Another feather in the cap of Buddy and Brian at the Emmy-nominated Stunt3 Multimedia.  
The film is done in the Ken Burns-style—they tell the story while jumping between the key players & flashing vintage photos, clippings, letters and where available, film footage.   You get a feel from the trailer:
More later, but a few quick highlights. 
First, I loved the shots of the actual wires and letters between Georgia Tech and Michigan, along with a few of the letters from U-M fans to Kipke and Yost chiming in on either side of the debate.   Check out this note from from the Tech coach to Yost: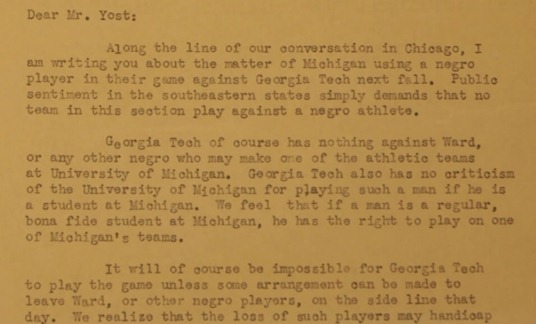 John U. Bacon contributes some outstanding context and stories on Yost including, yes, some of the dirty truth (once again) about FHY's racist leanings.
Some other highlights
>> Classic game film footage from the 1930s: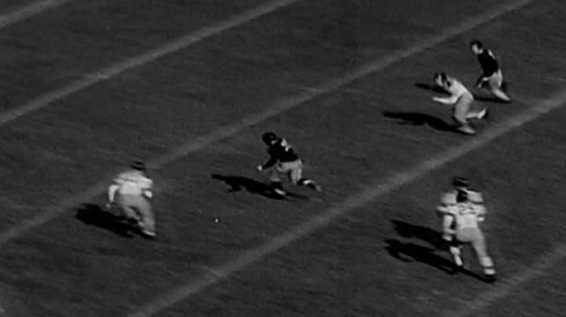 >> A huge score for Brian and Buddy at Stunt3–clips of an older Willis Ward talking about the incident and Ford's involvement – amazing: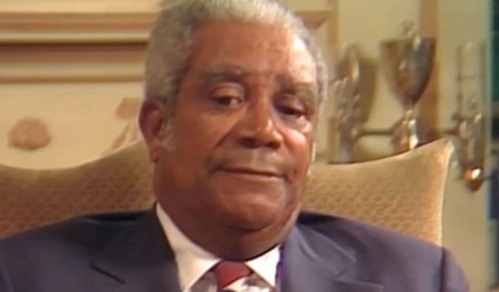 >> My ticket stub from the 1934 Georgia Tech game made it into the film.  I realize I'm the only one who thinks this is cool.  I don't know why I got such a kick out of this but I did: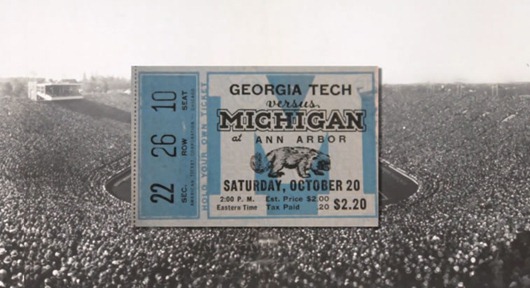 The producers would like to distribute the film to every school in Michigan for Black History Month and are still looking for a few folks to back the project.  If you are interested, ping the guys at stunt3 here.
Deal!  Exclusively for readers of this site, you can order the DVD today with shipping waived, follow this link.