This weekend I got a sneak peek at the latest Michigan football-related documentary, Perseverance – The Story of Dr. Billy Taylor.   You can see it yourself later this week as the film premieres in Ann Arbor at the Michigan Theater this Friday November 16th in two showings: 7:30PM and 9:55PM.  Touchdown BT himself will be there and I suggest you grab a seat.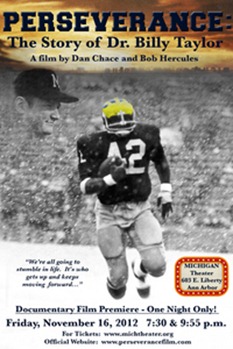 One thing I didn't expect going in: I loved the pace of the film.  While the BT backstory follows the typical documentary formula of blending photos, news clippings and video footage with music, it moves very quickly and seamlessly, more in line with the up tempo style of the 30 for 30 series than say a PBS Ken Burns feature.
Given the subject matter and the potential for a few gems in the form of classic stories, old pics and vintage footage to emerge, naturally going in I assumed I would like the film.
To my delight there were gems aplenty packed but it brought much more—they did a wonderful job of weaving this story together.   Like a memorable documentary should, Perseverance delivers a series of special moments that grab you such as:
* Taylor discussing his strategy for sleeping inside abandoned houses, upstairs vs. downstairs, where he lived in Detroit over a two year stretch.
* BT's son (who was excellent throughout the documentary) talking about what it was like to see his estranged dad suddenly appear at his baseball game.  And the accompanying photo is wild– you've got a beaming BT next to his son who is in full baseball uniform, mouth agape and is still clearly stunned by the whole thing.
* The closing scene at the 2011 Ohio State game when Taylor, with his son, is engaging with the U-M fans and is honored at Michigan Stadium.
The only critique is that I would like to see more in a couple areas, but I add this disclaimer: After I saw the FSD documentary on John U. Bacon's epic book Blue Ice, I half jokingly told Bacs I wanted to see the 12 hour, six episode, mini-series version.  It's understood that that's not exactly marketable today but oh well </shakes fist at Hollywood brass>.
There are a couple aspects of BT's life that I left the film wanting to understand a little better.   For instance you really don't get a portrait of the mother of Taylor's kids or her role or impact on their lives.   I'd like to know a little more, from Taylor, on what went into the decision to leave his family behind and head off to Las Vegas to pursue his graduate degree.  I also might have added a few more testimonials of addicts who have been helped by Get Back Up.   All this said, they packed a massive amount of material in the 52-ish minutes and it flies by.
As mentioned there are several gems especially for Michigan fans.   I'll just touch on a few because you really need to go see it:
* BT describing the visit Woody Hayes made to his high school classroom, and the one word Hayes uttered in the Taylor's home that effectively ended any hope that Billy would end up a Buckeye.
* Thom Darden talking about how the recruiting trip he and Taylor made to see Bo Schembechler while he was still head man at Miami, OH.  (Bo didn't exactly wine and dine them).  [Ed.  Hilarious – BT talked about this recruiting trip on WTKA 11/14, check it out here.]
* The footage of the hippie-riddled Ann Arbor from the 1960s was priceless.  There were several classic photos but the shot of the Mellow Men donning berets outside their house is pure gold.
* Yes, there's a mention of BT's tricked out Pumas!  Atta boy Sap.
There are many more but don't take my word.  You can be a part of it as the first official screening of a new piece of Michigan Football history is unveiled on Friday.   Perseverance – The Story of Dr. Billy Taylor premieres at the Michigan Theater November 16th in two showings: 7:30PM and 9:55PM.
For those who miss this screening, Perseverance definitely belongs in your collection alongside the great films chronicling Michigan lore.
Related:  Story from AnnArbor.com
Follow MVictors on Twitter