[Update: Audio from This Week in Michigan Football history, discussing the '49 Spartan antics]
Heading into 1949 season, Michigan was the two-time defending national champion and was riding a Yost-like 23-game winning streak.  First in their way in the quest for the third championship in a row was Michigan State College who were still a few years away from admission to the conference.
This won't shock anyone in Ann Arbor, but before that game played 62 years ago this Saturday, a group of MSC fans came to town ready to stir things up.
They had mixed results.
One group succeeded in sneaking into Michigan Stadium and used white paint to insert the initials 'MSC' in six-foot block letters at midfield.  They took the rest of the paint to deface the press box windows and give other parts of the stadium a white wash.
Another group, apparently a crew of sixteen future leaders of men, set out to deliver a more complex prank.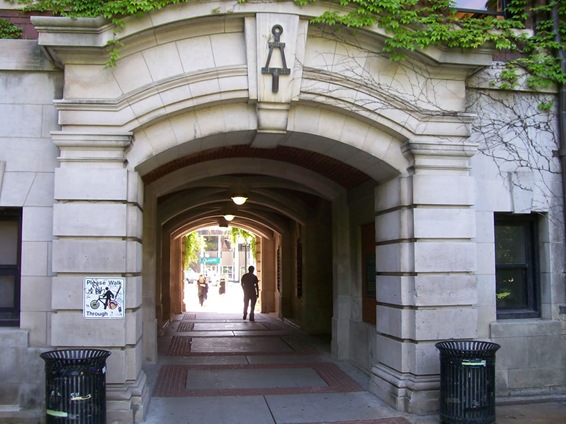 They actually carefully designed and built a structure that would seal off the iconic Engineering Arch on campus (left).  They constructed a wooden frame and created 60 cement blocks that when pieced together, would shut down the Arch.
They actually rehearsed the prank and, according to reports, apparently could complete the stunt within seven minutes.  But shockingly, they clearly underestimated one key aspect of the plan—the idea that a group of cars containing piles of inebriated, out-of-town students, alongside giant pieces of a wooden frame and 60 cement blocks just might set off a bit of suspicion from the local authorities.
Sure enough, the 16 Spartans were foiled before anything even started.  According to the AP, "Blocks, frames and boys were packed off home."
Once they actually played the game, coach Bennie Oosterbaan's Wolverines, led by All-American Alvin "Moose" Wistert, prevailed 7-3 thanks to a Chuck Ortmann TD pass.