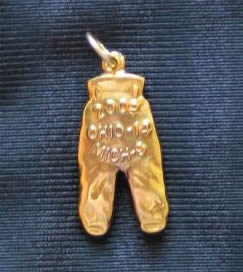 Actual OSU Player parted with this "prized" tradition
ANN ARBOR, MICHIGAN SEPTEMBER 18, 2003 As reported by Rusty Miller in the Detroit News, it appears as though one of the Buckeyes sold their cherished pants charm.
This unique piece of jewelry is awarded to Ohio State football players if they beat Michigan. This one was from 2002. It has the score of the game and the player's initials (M.C.?). The item was sold on eBay, reportedly for around $1000. I wonder which player sold his charm? ("Some people call him Maurriiiice"). Hmm. Here is the entire eBay listing:
These are the coveted Gold Pants Charm that Ohio State Football players and coaches receive after each defeat of Michigan. This 2002 pair was awarded to a current player after last years win over Michigan in November of 2002 (14-9) at Ohio Stadium. The game that vaulted Ohio State to the Fiesta Bowl and eventually a National Title. It all started in 1934. The game against the University of Michigan in 1934 placed new coach Francis Schmidt into the hearts of Buckeye fans everywhere. Ohio State won the game 34-0, its largest margin of victory in the series to that point. Coach Schmidt changed Buckeye lore forever when, before the season, he was asked about beating Michigan. Schmidt commented that he didn't see the problem. After all, the University of Michigan football players put their pants on one leg at a time same as everybody else. This comment created the Gold Pants Club, a group of businessmen who award a miniature gold football pants charm to all players who participate in a win over the Wolverines. The charms are engraved with each player's initials, the date of the game, and the final score. Please check out my other auctions as well. I reserve the right to cancel any bidders without positive feedback. I accept PayPal, Money Orders, and Cashiers Checks. ***These pants were issued to a current OSU Football player. Out of respect, I can only reveal the initials and identity to the winning bidder.***
Wow.