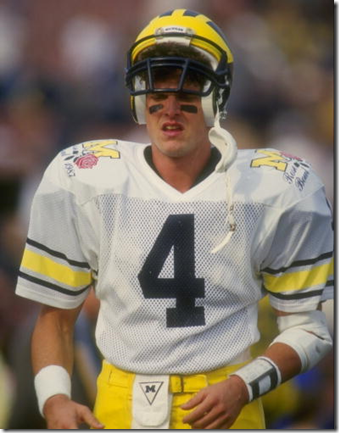 Getty images
He was my first choice, too, but he's gone.  Here's four reasons why missing out on old #4 might not be so bad:
1. He's a different kind of cat.  On Cowherd's radio show recently, Harbaugh compared his QB Andrew Luck to his wife, saying both were "perfect".   Jeez man, unsolicited displays of affection toward your spouse on national sports radio—weird.  Why don't you marry her (again)?
2. I know most fans put it aside, but he still said these things about his experience at U-M and it's tough to unring that bell.   Besides, does anyone seriously doubt he was offered?  He turned us down, man.    He didn't want it.   Update: And as MGoDread points out on Twitter, who's to say we wouldn't be dealing with this NFL drama after any decent season if he came back to A2?
3. A different cat #2.   Jim Rome holds a radio event one day each year when the listeners compete to unleash the best phone call—the 'Smack Off'.  Beyond frequent guest host and comedian Jay Mohr, actual athletes or celebrities don't participate.  No one except Jim Harbaugh, NFL quarterback, that is, who called in 1998 and delivered this unfunny, uninspiring and unlistenable call:
Standard Podcast
Play Now
|
Play in Popup
|
Download
Weird.
4. Twitter habits.  Tweeting out codes to recruits is one thing, but dudes who tweet out Gordon Lightfoot lyrics (and mean it) are a different breed of cat:

#thatsweirdjim