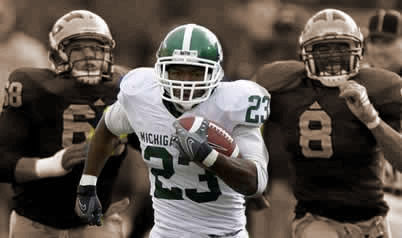 Free Press
One of the hardest parts about watching this team is that I've lost that comfort in knowing that we're the stronger team on the field. A lot of the games over the past few seasons were painful because you felt like Michigan, with a few exceptions, was the better team, but you never really felt like they were out of any game. In general, Michigan had the players and the ability to string a few big plays together a mount a comeback even in the worst situations.
People ask me about the 2008 squad and I often I say "fragile". Everything they do seems fragile, any success they have on the field seems to be finessed, earned not by overwhelming the opponent but rather just getting a couple guys loose or making a good play on defense. And like a flash it goes away–with a string of three and outs on the offense, or giving up a pass over the middle on third and long. Even with Michigan up 21-14 yesterday I still felt like they would need a big mistake or some dumb luck to hold the lead and pull off a big win.
A few more thoughts on the game:
* Give credit to State for sacking up and winning that game–no Spartan Robert, no strange penalties–just a straight up win, taking it right to the Maize and Blue. I thought Dantonio was crazy when he went for it on fourth and short up seven but I give him a lot of credit.
* The Spartans were well represented in the crowd, as well as I can remember any team having for a big game. And they were loud. There were a group of Spartan freshman in front of us and they had a great time, singing the fight song, like you're supposed to do. Some of the M fans leaving the stadium were saying some really crappy things to them, although most of it under their breath. To you people–you are the type of people we make fun of and despise in Columbus. Be humble and respectful in defeat or in victory. It's incredible how classless many of our fans can be.
* As fans, we tend to look at certain incidents on the field and draw broad conclusions about the state of the program. That's what we do, I understand this. I've had a lot of guys bitch about the tackling and point to the coaching-it's been pretty bad at times for sure, guys taking bad angles, not wrapping up, etc. But to indict this staff because guys are missing tackles is silly. It's not like Shafer came in and had to teach all these guys how to play football. It's not this staff's fault if a senior linebacker is taking bad angles.
* I am concerned about some of the things happening in special teams. A big part of coaching is getting your team prepared for situations on the field, and putting in the right play/scheme given the circumstances. I like the idea that the Michigan staff recognized that State's long field goal might be short and returnable–we've seen how much of a weapon that can be in the NFL. What bugs me is that these guys returning the kick-offs, and in this case, a kick, are routinely making bad decisions with the ball. Warren should have let the ball go; it shouldn't have been a case of 'catch it and run it back no matter what'. It looked like he caught it 9.5 yards deep in the end zone. Should have never happened. These guys are young but they need to coach them through the decision process in these situations.
* With this loss and Columbus coming up, Michigan's going to lose to all three of its major rivals. (Yes, I'm throwing in the white flag for Ohio State although they looked a little sluggish on Saturday. MVictors guest columnist Schlimmy was at the game; I'm hoping for a recap.) That really blows but what hurts most is that I don't see this team improving. The defense made some nice plays but left guys wide open including The Blair White project who looked like Blake Ezor running up and down the field. The offense – again, just fragile. A couple nice plays here and there but it's all just so painful to watch.