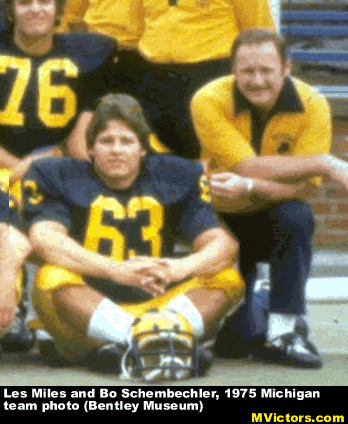 Mark Snyder just reported on Freep.com that Mary Sue Coleman and Bill Martin did indeed speak with Les Miles last week. He doesn't cite any direct sources. Two quotes from the article of interest:
Miles had a phone conversation Friday morning with Michigan athletic director Bill Martin and school president Mary Sue Coleman, according to several people with knowledge of the call.
….
While the call between the two sides did not identify Miles as the leading candidate for the coaching vacancy, it did give them a chance to interact formally for the first time and to discuss a number of issues previously handled through intermediaries.
He did get one slightly interesting quote from one of Coleman's people:
"We're not going to be discussing anything about recruiting (a new coach) until after the announcement is made," Coleman's spokesperson, Kelly Cunningham, said today.
While we didn't see what the question or comment was that prompted this comment from Cunningham, what does she mean by "the announcement"? What announcement? The phrasing is peculiar here because it's not like anyone is aware of any type of pending decision in this process, thus, an announcement.
If this is true, apparently Martin and Coleman didn't have the LSU AD's blessing who said today:
"I'd be under the assumption that the permission to speak to Les Miles has expired," Bertman said Monday. "We've signed the contract."
Next up: flight tracking!