I finally made it out to Yost to see the Wolverines skate on Friday. It started off with a few sodas at Frasers and then we made it over to the game. Parking was a little brutal given the snow that rolled in this past week but we made it in with plenty of time. As we were looking for a spot we heard that Coach Berenson dismissed freshman Kevin Quick from the team so things were a little uneasy from the get go.
The 3-3 result of Friday's game [recap MLive] was a big disappointment but the action and play were not. I went in expecting an easy win over Northern Michigan but those guys played tough. After NMU netted the first score and then added a short-handed tally you knew it was going to be tight. All this said, Michigan had 20 more shots on goal (44-24, complete boxscore) and definitely had better chances. A few mistakes handling the puck and there you have it. Hobey Baker candidate Kevin Porter looked great, very nice puck handling, very quick… but I was really impressed with Travis Turnbull. He scored a great goal, added an assist and drew a key penalty on a breakaway.
All in all another great time at Yost. It was then back to Fraser's for postgame and a few wings.
Looks like things didn't change much on Saturday as the Wildcats again came away with a 3-3 tie. Getting two points out of a home series with the 8th place team isn't too cool. The Blue can erase all that by getting 4 or more points next week against #1 Miami in Oxford.
Red Bobble
Couldn't resist picking up a Coach Berenson bobblehead at the game for a mere $5! It's a real beauty. It's the same hard ceramic material as the Bo Bobble and proceeds benefit The Dekers Club. A no brainer: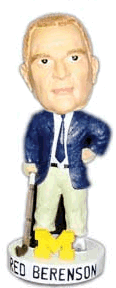 Bootleg video
Sitting directly behind the goal, I was hoping to grab some video of the game winner. The best I can do is some action from the overtime period where Michigan had many chances, especially during a 2 minute powerplay. PS – I understand they are looking at getting rid of college hockey ties and I'm all for it:

Elsewhere: Sticking with hockey, just found this story titled, 'The Guy who duped Stevie Y.' in this week's ESPN the Magazine, by former Ann Arborite and MVictors fan Eric Adelson.