This edition of #TWIMFbH goes back to the Wisconsin game in 1905.   The Yostmen were still dominating on the field, and indeed putting up a point-a-minute.  But this was also scary time on the field for players, and in this game, it got downright scary off the field approximately 2,000 fans at Ferry Field.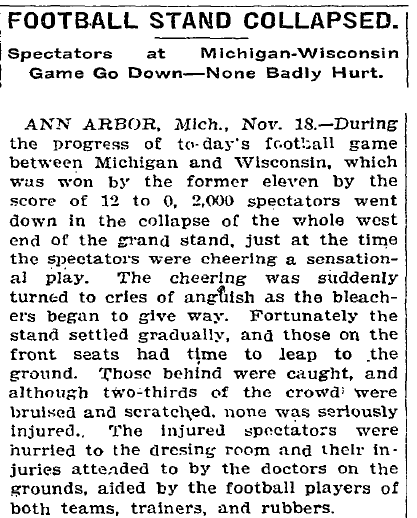 Here's the clip:
TWIMFbH is sponsored by 
Hillside Terrace of Ann Arbor
.  This segment can be heard on the Keybank Countdown to Kickoff and you can listen live on 1050AM in Ann Arbor & on 
wtka.com
 around the world.  This segment plays approximately 2 hours before kickoff each week.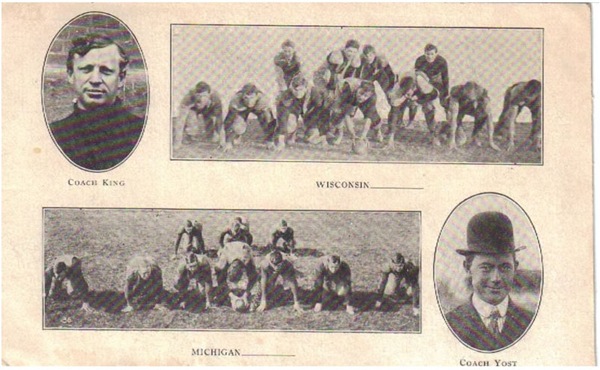 You can hear the archive of This Week in Michigan Football History clips here.    If you have suggestions for future games hit me on Twitter @MVictors.  Go Blue!
/script …after the jump
This morning we take a loooooong trip back in time 112 years ago to the tail end of Fielding H. Yost's brilliant Point-A-Minute era.   It was on this day in 1905 that we faced today's opponent, the Wisconsin Badgers.
This game was played at the friendly confines of Ferry Field and nearly 18,000 fans packed in to witness Yost's marvelous crew.  Hurry Up's teams still had yet to drop a single game since he arrived in 1901 and the Point-A-Minute moniker was appropriate.  Thanks to the research of historian John Kryk, to this point his teams actually scored almost exactly 1 point for every minute played.
Thanks to a pair of touchdowns by Frank "Shorty" Longman the Wolverines prevailed 12-0 to continue Yost's unbeaten streak to 54 games.   Fans who know early U of M history might recognize Shorty's name – he later became the head coach of the Notre Dame team that defeated Yost in 1909 – adding a critcal spark to the natural rivalry with our friends from South Bend.
But the story of the Wisconsin game wasn't Shorty's touchdowns or even Yost's streak, but rather a near catastrophe for the fans. Midway through the second half the temporary stands on the west side of Ferry field broke down and gave way, sending 2,000 people screaming and scrambling to avoid disaster.
While many injuries were sustained fortunately none were fatal. Thankfully the bleachers collapsed slowly and allowed many fans to scoot away.
While watching football proved a risky proposition in this game, it was much deadlier on the field in those days.  Believe it or not, FORTY FIVE young men died on the due to injuries on the gridiron between 1900 and 1905.
This got the attention of the media, but it wasn't until President Teddy Roosevelt's son suffered severe internal bleeding in a game at Harvard that things changed.
The Rough Rider flagged the sport of football for unnecessary roughness, and his involvement led the charge for rules changes to dial down the violence.  Those changes included the introduction of the forward pass, as well as a cease and desist on the practice of pounding away at players after a tackle was made.
So here we sit – 112 years later – and we're still grappling with how to best protect the players.  But another thing that hasn not changed it how much we love this sport and of course, our beloved Wolverines.
So Go Blue, let's beat the
Beat the Badgers like it was 1905
and For more, visit
WTKA.com
and
MVictors.com
– for the Keybank countdown to kickoff this is Greg Dooley