Great, great stuff from the bountiful Sports Illustrated Vault. I found this beauty via the excellent Winged Helmet message board posted by uber user BlueCheeseHead.
It's a lengthy piece on Fritz Crisler first published in February 1964 titled "The Man Who Changed Football". Definitely check it out. It presents the former Michigan coach and AD's influence on college football rule changes but it also provides a few nice nuggets. Among them:
Specifically how he got the nickname Fritz:
Coach [Amos Alonzo] Stagg fastened the nickname of 'Fritz' on him after he had fumbled three times in a row. Stagg made the sarcastic point that there was a violinist, a great artist, who spelled his name Kreisler. He said he was naming Crisler Fritz because he bore absolutely no resemblance to Fritz Kreisler, the artist.
On his strategy to defend "the sleeper"….where the offense hides a player near the sidelines, hoping the defense doesn't notice:
"We would put a bugler up on top of the press box with instructions to watch for that sleeper, and when he spotted one to blast out reveille with all the fervor and wind that was in him. It worked, but we could only use him at home games. There was a limit on the number of men we could take on a trip. One time we went to Illinois, and Zup [Coach Bob Zuppke] laid a sleeper out there and beat us with the play. If we had had our bugler I don't think Zup would have beat us."
Finally, on the "1" in the attendance. I'd always heard that the seat was for Fritz Crisler, and in some ways I guess it is. But here's the back and forth between the columnist and Crisler on the topic:
Crisler is obviously proud that the University of Michigan has the largest college-owned stadium in the U.S. He would not concede that it is his personal monument, although that is what many people consider it to be. One question that all Crisler's guests ask him is, "How did you arrive at a seating capacity of 101,001? Was it pure coincidence? Was there a reason for the additional seat?"

Crisler smiles at the question. "Let us put it this way. It makes a great conversation piece at cocktail parties."

That extra seat had no significance of any kind? It was not any special seat in any special spot?

"It has its spot," said Crisler. "And I am the only man who knows where that spot is."
The article concludes speculating that the lone seat is reserved for Stagg, Crisler's mentor.
I'm not sure if that seat is still around but it makes sense that if it is, it'd be near the press box. That area seems to be the most stable in all of the various renovations that have occurred since Crisler's days. There are a couple bizarre seats up against the press box in Section 22, in particular, here's section Section 22, Row 85, Seats 7&8.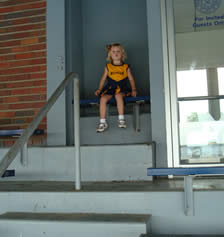 Just a thought, perhaps Crisler reserved two seats (101,000 and 101,101) for he and for the legendary Stagg?