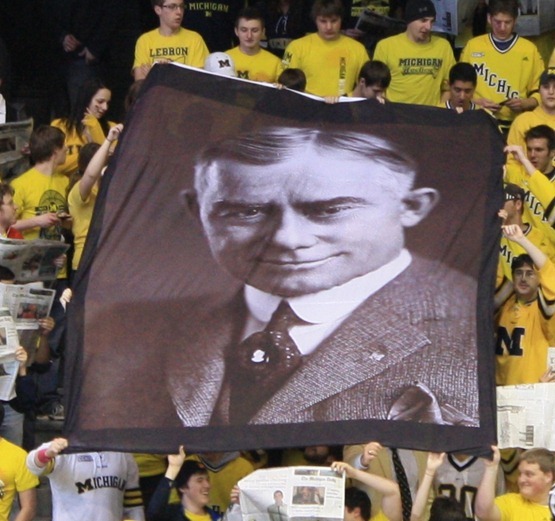 On this day in 1923 give a hearty cheers to the unofficial birth of the Michigan ice hockey program. As beautifully chronicled in John U. Bacon's Blue Ice, the long road for fans of the sport on campus culminated on this day 91 years ago as Michigan took on Wisconsin at The Coliseum. U-M's Eddie Kahn netted the first goal in team history, and it was Robert Anderson who tallied the game winner in overtime for the 2-1 victory.
Sharing a few quotes from Blue Ice that Bacs pulled from the Michigan Daily:
"Hockey is a game that nine-tenths of the students have never seen, and could not be persuaded to attend," one student wrote, in a piece that is almost as accurate today as it was when the anonymous student wrote it eight decades ago. "There are many others, however, who will turn out for the first game. This last class will be the one that will furnish the hockey following, for few people who have ever seen a game have failed to become confirmed enthusiasts. It is a sport that combines the science of football, the combination demands of basketball and the individual skill of baseball, with a speed that belongs to hockey alone."

"Above all other attributes of the game itself, the greatest reason why the Coliseum should be packed to the doors tomorrow night and Saturday night is Michigan spirit, the quality for which the Maize and Blue is known throughout the country."

"It is up to you. The players cannot do it alone."

"Be there."
For more grab Blue Ice, you won't be disappointed…whether or not you give a crap about hockey.
Follow MVictors on Twitter