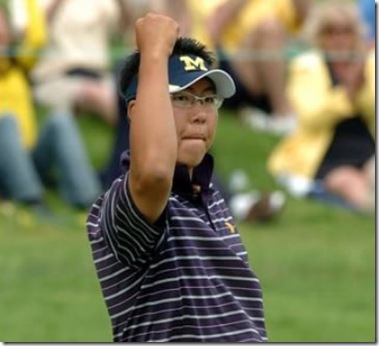 From 2010-11 Michigan Men's Golf yearbook – U-M Media Relations
I recently caught up with Michigan senior golfer Lion Kim and he sounds like he's ready.
In about eight weeks Kim will tee it up at Augusta National against the world's best golfers.  Back in July the 21 year-old took down the field at the U.S. Amateur Public Links and took home both a magnificent silver trophy and perhaps more significantly, a slot in the 2011 Masters field.
What are his goals for tournament?  Did an owl bring him his official invitation to The Masters (like I hoped)?  Will he represent Michigan in any way during the week?  These answers and much more below.
_______________________________________________________________________
I understand you've had the chance to play Augusta National for practice?
Kim: Yes I have. I've made a couple trips down there to get some practice rounds in.
Are you invited to practice if you are in the field? How did you arrange that?
Kim: Once you earn the invite for the following year's Masters you can just call in. When I called and introduced myself they quickly knew who I was and I asked if I could do a couple practice rounds. The rule is you can do as many practice rounds as possible, you just have to call a week before and let them know the dates.
Did they actually send you a formal invitation?
Kim: Yes, they sent it to me in December. It's very simple; very traditional. It came in an envelope and just says 'The Masters cordially invites you to the 2011 Masters Tournament' or something like that.
Did you actually have to 'accept' the invite?  Or do they assume that you are going to play?
Kim: [laughs] Obviously I sent in my application for it as quickly as possible but I think they knew I was planning to play [laughs].
When was the first time you played Augusta National?
Kim: The first time I played it was over Thanksgiving and I made another trip over Christmas break. The first week of February I was down there as well.
What are your impressions of the course?
Kim: It was really everything I imagined it being. Looking at the course, it plays very long and the greens are obviously very tough and very fast. It's all about placing your ball at the right spots. In general, it's absolutely beautiful. There's so much history and tradition there and being able to walk that course where numerous legendary golfers played and the current top PGA tour players…it's pretty humbling to realize you'll be playing alongside them in The Masters tournament.
The U-M course was designed by Alister MacKenzie and he co-designed Augusta National with Bobby Jones. Do you see any similarities between Augusta and the M Course?
Kim: There's no question there are similarities. The first similarity is the greens. The U-M course is known for tricky greens and obviously that's the case at Augusta National. And second I'd have to say the treelines. The holes are tree-lined and very traditional. There are not many hazards. All the troubles are around the greens.
So I think a lot of M fans will want to know–do you plan to represent Michigan in any way with your clothing or gear?
Kim: Absolutely, absolutely. This is a great chance for our program to get nationally televised and The Masters is the biggest stage in golf in my opinion. I plan to represent this university well. I am planning on wearing Michigan gear, or at least Michigan colors, from head to toe. I already have custom made Michigan shoes and a U-M bag, head cover, hat. I have shirts—everything.
Who's carrying your bag?
Kim: A club caddie; a local guy there. He has a lot of knowledge on that golf course and that's very important.
Were you able to get Masters badges for your friends and family?
Kim: Yeah I did. It's pretty cool. My family and friends will be there and what's cool is that my parents and my brother get a clubhouse pass. They'll get to see the pros up really up close and they're excited about that.
Are you planning staying in the Crow's Nest?
Kim: Yes, probably for a couple nights. I plan on staying with family as well. I'll be staying there for one or two nights just to say that I got to experience it, but I think the day before the tournament I'll stay with my family to get a good night's sleep to get ready for the tournament.
Have you heard from any pros giving you advice?
Kim: Yes, my instructor Brian Mogg has many tour pros and they've given me a lot of insights on how to approach some holes and what to expect and things like that.
So what's a realistic goal for you for the week and the weekend?
Kim: Well, a realistic goal for me is making the cut and being the low amateur of the tournament. That's my goal and I'm going to do everything I can to accomplish that.
So I guess the big question is how well have you fared in the practice rounds and what do you do think you can shoot out there if everything is working?
Kim: Right now it's playing long because it's soft and wet there. I've played six rounds there and I have shot under par. The best score I shot was 70 and that's two-under. I honestly think that if the course is playing firmer, and I think and everyone's told me, that the course will play a little shorter than the first couple times I've played it. That said I think I'll have shorter clubs in during the tournament week.
The course fits my game really well. And at 7400 [yards], if you just look at the number it's pretty long but you've still got to drive the ball well and you've got to hit certain spots. It's a golf course where you may have a pitching wedge in your hand but you still have to aim it 30 feet left or right to give yourself the best opportunity. You don't just fire at every pin. That's my game—it's all about consistency and placing the ball at the right spot to give myself the best birdie opportunities. The course fits my game perfectly.