No doubt you've seen NFL teams donning various forms of pink gear over the past couple weeks in support of Breast Cancer Awareness month.
I confirmed with U-M Media Relations that Michigan will be joining them on Saturday, as coaches will be wearing sideline polos and hats laced with pink along with the breast cancer ribbon logo.  (Hat tip to Craig Barker for alerting me to some sightings of pink M gear in town a few weeks back.)
As I understand it, the shirts will be white with a pink 'M' logo.   As far as the hat, my contact at the PR firm representing adidas sent this over and I believe this is it or close.  Based on what I heard media relations, the 'M' logo on the hats might be pink for the game: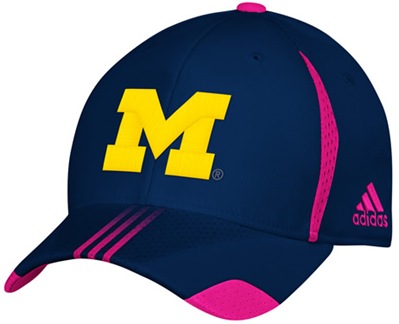 Limited quantities of the pink gear will be available a M-Den stores and at the game.   More details to come.   For those attending Roger Waters' performance of 'The Wall' at the Palace on October 24th, grab this gear so you can represent your Wolverines and blend in nicely with the crowd.
I'm sure the Hawkeyes will appreciate Rich Rod and crew embracing the cause.  For decades they've been pushing for teams visiting Kinnick Stadium to get into the pink: