I'm heading out to Minneapolis tonight and it'll be my first time there for a game.  Check back in for updates Saturday and Sunday.   Looking forward to it of course and I'll have a camera or two in tow.
Elsewhere:
* Hello, Angelique:  Don't miss the Angel's epic tale of artist Jil Gordon and yours truly and our relationship with The Little Brown Jug in the Detroit News today.  They even borrowed, with permission of course, my photo of Ms. Gordon from last year: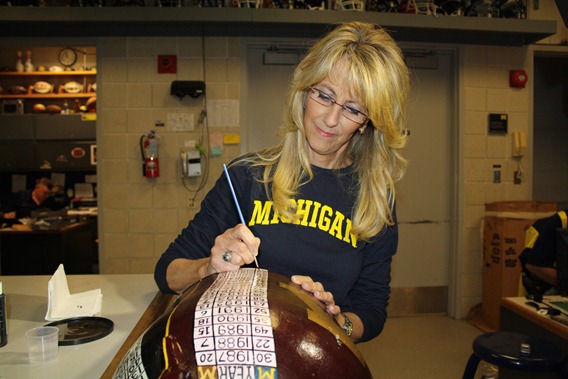 Jil is also a friend of mine and even an MVictors sponsor – check out trueblue365.com STAT!
* Hamming it up.  Check out The Blockham's caption contest involving a bevy of U-M media middleweights.  Craig of HSR's entry:
* New Sponsor.  Flagstar Bank recently announced their extensive relationship with U-M.  I'm happy to say they've also now got a relationship with this site, thus the new spot on the sidebar.