To make your favorite Wolverine fans happy this holiday season, here's a few gift ideas for the Michigan fans in your family:
* Moe's has Gear, Galore.   Did you notice that Moe's and Underground Printing are sponsors this site, mgoblog and several of my peers in and out of the blogosphere?   So what?  Come on people, support them.  UGP Ann Arbor has massive deals this week.  So does Moe's so— Michigan fans dig in.
* Black and Blue!.   Is Georgia Tech going to join the Big Ten?   Damn it I don't know – but if they do you best be prepared to boo them until your throat is hoarse—for Willis Ward's sake.  The latest edition of Stunt3 Multimedia's epic Black and Blue: The Story of Gerald Ford, Willis Ward and the 1934 Michigan-Georgia Tech Game is out – the director's cut includes game footage from 1934 featuring Ward and Ford, and clips from the October 20, 2012 Willis Ward day tribute at Michigan Stadium.   Get it!
* Three and Out!  John U. Bacon's epic book is now out in paperback with new content.    A must read for Michigan fans so grab yours. Other favorites include If These Walls Could Talk…by Jon Falk, John Kryk's Natural Enemies,  More from Bacon with Bo's Lasting Lessons and Blue Ice, Obscene Diaries of a Michigan fan, and the Michigan Football Vault.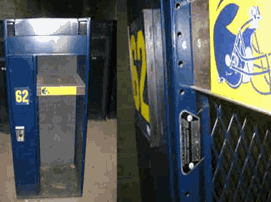 * Authentic Schembechler Hall Lockers.   I've posted on these before, and as I understand it there are still a few left.   They are amazing—the demo crew handling the locker room renovation retained the rights to keep the lockers and they have the paperwork to back it up.  Complete with combination for the secure door.  There are fewer than 20 left, email me mail @ mvictors . com for details.    
*  Adopt-A-Family.  The best gift of all?  Help out a family in need this year with the joy of the holidays.  WTKA 1050AM will be featuring its Adopt-A-Family week in support of Debbie Williams-Hoak's Christmas gift program.   It helps out area families in need for gifts, and sometimes, special items and more.  
Tune in next week to WTKA 1050AM for more all week.
* Tailgate in style.  Class up your pregame with the products from True Blue 365: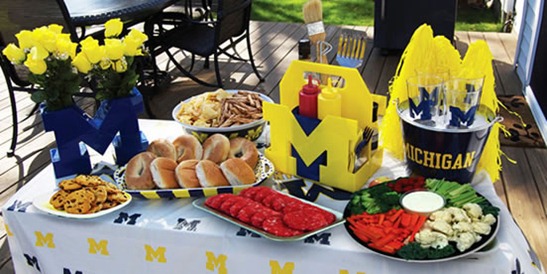 Follow MVictors on Twitter