They should have lost. So here on Sunday instead of a deep pit in your stomach as you brace to face your colleagues Monday…it's merely a headache and a sense of bewilderment. This will take a while to shake off. One caller to WTKA Sunday morning said Michigan got beat in every position group and on the sidelines Saturday and that's pretty much correct.
Gardner played most of the game in a lower gear as if he didn't need to play full out to roll up and down the field. He clearly can't operate in a "kinda-on" mode. I don't know if that was direction from the coaches or whether that was just in his head. He was out of sync with the receivers, threw balls late and didn't look to take off running when he needed to. That is until Michigan was down. Moving forward Gardner needs to see Ohio State across the ball and go full on until the coaches tell him to stop. And it bugs me that three games in, that the backs can't seem to make the first defender miss or at least pay for it.
More notes from the game:
Mood > Worst Win Ever: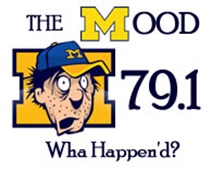 Legends > Courtney Avery and his Legends #11 jersey hit the field Saturday so the only missing Legends jersey out there was Jake Ryan and the Oosterbaan #47. So when will all the Legends be on the field together? Call it a gut feeling…but I'm thinking Minnesota. More importantly we clearly need Capt. Ryan healthy and back on the field.
Bowden > Tough to criticize the Akron coaches for anything in this one, but in the 2nd quarter when they had fourth and short deep in Michigan territory…how did they not go for it?? Sure they were out of timeouts but come on. Instead they took a penalty trying to figure out what to do, then doinked the kick off the left upright. And looking back, how could they not have the kick team ready on 3rd down (with no timeouts) assuming they were considering kicking a FG in the first place?
Headset > I don't care that Hoke doesn't wear a headset. My only question and I'm certain I've raised this before—does the sideline get info quick enough when they need to challenge a call? I know the booth is technically supposed to review everything but in reality they don't always get to it. The replay and re-spot in the final seconds was critical (based on the spot, changed it from 1st down to third down) but it appeared that this review was booth-induced. Maybe this is happening, but to me Michigan needs someone upstairs with the sole responsibility of watching an HD monitor and communicating down when to challenge calls, especially at wild times like we saw at the end of the game Saturday. If that play wasn't overturned (thus leaving Akron with a first down), they might have changed strategy and tried a quick slant or 2 in order to squeeze in an extra shot at the end zone instead of leading running the toss sweep on third.
History Bits > Via the official game Notes:
• This was the first-ever meeting between these two programs. This was the Wolverines' second win over a MAC opponent this season (59-9 win vs. Central Michigan). Akron becomes the 145th different opponent to face U-M. Michigan is now 116-25-4 all-time in first-time games with a school.

• U-M has won 19 consecutive games at Michigan Stadium in the month of September.

• Kicker Brendan Gibbons missed a 45-yard field goal attempt in the second quarter, snapping his streak of 16 consecutive makes, a program record. His four PATs give him 114 consecutive, the second-best mark in program history.
Under filled > Speaking of the attendance of 107,120, it wasn't mentioned that that's 381 2,781 short of capacity. So when is the last time's that's happened? Via twitter:

Need to double check that. One thing: the reported attendance of 107,856 for the 2008 Northwestern freeze fest game was absolute bunk. No way that 107K made it into the place on that day.
Countdown to the Jug > Good news, we're two weeks away from Homecoming and the 100th meeting with the Gophers. That's the chance to set the world right again and you can get in on a special event celebrating Jon Falk and the jug. It's 60% funded and details here.
Worked Brilliantly > One Michigan thing that operated swimmingly on Saturday was my MaraWatch.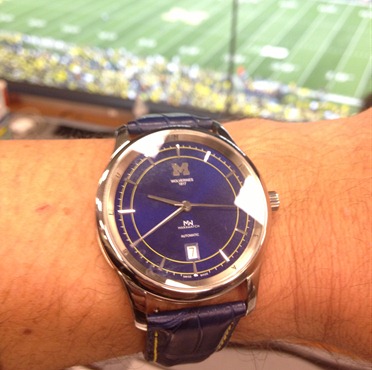 Sometimes it's better to look good than to feel good.
Elsewhere:
Follow MVictors on Twitter
Akron Content: