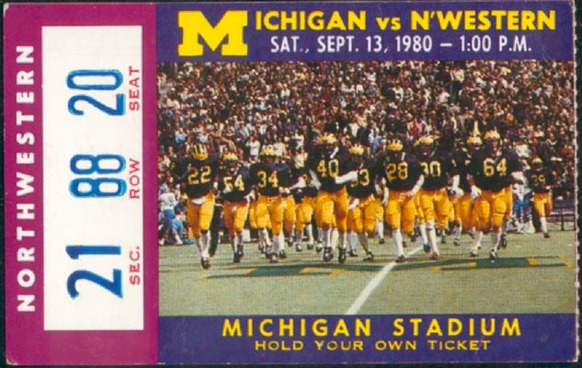 I'm not going to lie, I think a little bit of Paul from Toledo rubbed off on me for this week's edition of This Week in Michigan Football History:
TWIMFbH - September 13, 1980 Michigan vs. Northwestern
Play Now
|
Play in Popup
|
Download
You can catch all of the This Week in Michigan Football History clips here…And don't forget to catch it live Saturday on the KeyBank Countdown to kick-off on WTKA 1050AM or inside the Bud Light Victors Lounge starting at 11:30am.
Follow MVictors on Twitter
script:
1980 was special year in Michigan Football History, and perhaps one that hopeful Wolverine fans might appreciate in THIS season 34 years later.
On September 13, 1980 the season opened against Northwestern who were in the midst of a 34-game losing streak.
Bo's teams had routinely pummeled our Purple friends over the years—the only real coaching strategy seemed to be when to take the foot off the pedal in the annual blowout.
But 1980 was unique, and expectations in Bo's 11th season in Ann Arbor were relatively low—the preseason pollsters placed them #12 in the land—and Michigan didn't do much in this game to prove the doubters wrong.
In a rain soaked afternoon in front of just over 100,000 the Wildcats went toe-to-toe with the Wolverines, and the game was knotted at TEN into the fourth quarter.
But senior Captain Andy Cannavino pounced on a fumble in Northwestern territory and delivered the ball back to the offense.
From there quarterback Rich Hewlett connected with Anthony Carter on a 23 yard strike to go up 17 to 10. A late Northwestern drive was squashed by a Cannavino interception and the Wolverines survived.
From there Michigan suffered a heartbreaking loss at Notre Dame, and then fell in a tight game at home to South Carolina. They were 1 and 2 – out of the national polls – and from afar, things appeared to be lost.
But Bo, Captain Cannavino and the 1980 Wolverines would not break. NO SIR.
Instead of imploding they came together as a team and unleashed a world of hurt on their remaining opponents. Wins over Cal, Michigan State, Minnesota and Illinois put them back in the polls, then 3 consecutive shutouts placed them in the top 10. They yielded a mere field goal in Columbus in the 9-3 victory over the Buckeyes and earned another trip to the Rose Bowl.
In Pasadena the story was Schembechler – who had gone winless in seven prior bowl games – including Five Rose Bowls – but this was a special group and they would not be denied –
They pounded the Washington Huskies 23-6 concluded riding a streak of 22 quarters where they did not yield a single touchdown. MORE IMPORTANTLY – the 1980 Wolverines will forever hold a special place in Michigan Football's Valhalla for delivering Bo his first Rose Bowl victory.
For more, Checkout MVictors.com and WTKA.com – for the KeyBank Countdown to Kickoff, this is Greg Dooley.