A thoughts on today game before I head out.  P.S. – For those coming back here for another behind-the-scenes recap from Notre Dame, sorry, I'll be back in the crowd for this one. 
I'm sure a lot of enemy fans are getting a good chuckle over the glee of the U-M faithful after the Western Michigan game.  I understand that a little bit, but this team looked different.  The tackling was much better and the difference with having a quarterback that can throw on the run (and just run) was clear. 
I left South Bend convinced that Michigan had the better team last year despite the final score (see game recap, Pushing the Rock):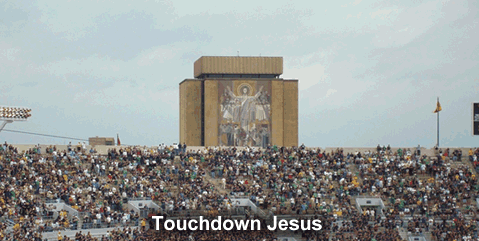 History just might be on Notre Dame's side (not the Las Vegas history), as recall it was 100 years ago this fall when Notre Dame first beat Michigan, in Ann Arbor no less.  Frank 'Shorty' Longman and crew came to town and stunned Yost and company 11-3 on November 6, 1909.
Prediction: For today, I just can't help but think that Forcier will struggle a bit and Clausen will have a solid day.  I think the M defense will look good but will give up the occasional bomb.  All told, I see the Irish pulling away 31-20.