Another beautiful day in Ann Arbor as coach Rodriguez got his first win at the helm of the Wolverines. The 16-6 win was far from convincing or complete, but this win over Miami, OH was plenty good enough after last week. They were supposed to win, they did, but I think many folks were relieved to get this one in the books.
The offense made some strides, the defense kept the RedHawks out of the endzone and that's what we needed to see. Everyone can take a breath and as the Blue get ready for Notre Dame next week.
A few takes:
* You saw a few glimpses of what this offense, and perhaps this team, is capable of if they can get players in space. That wasn't Big Ten talent on the other team but you can see some damage being inflicted on anyone if they get the right guys in the open field. It was much more fun to watch this game, despite being up only 4 points in the fourth quarter.
* Threet missed three guys in the first half that were basically wide open and could have gone for six. That hurts. No, they weren't the horrible tosses we saw from Sheridan last week but these guys should be able to make those throws.
* Sheridan looked a little better today although he really didn't try to fire it down field. He took the last snap- I don't know if that means something. With Threet's overthrows I'm betting Rodriguez didn't see enough to name Threet the starter and I wouldn't be surprised to see Sheridan start in South Bend. You almost get the sense that Rodriguez reluctantly started Threet today.
* After that ridiculous Utah kicker Sakoda last week, we were treated to a bionic opposing specialist once again – the RedHawk punter Richardson. He punted seven times for 377 yards, that's a 54 yard average with a long of 74, including four inside the twenty. Dude, go away.
* McGuffie was fun to watch once he got going. Somewhere in my head I'm waiting for him to jump or backflip over somebody whenever he gets out into space. The guy is a complete android, no emotion and that's ok with me. After that long play that set up the put-it-away touchdown, after he was tackled he tapped his shoulders indicating he needed a break and trotted toward Fred Jackson. No muscle flex, no jump and a hop, nothing. Doug Karsch asked him in the locker room about the game, he basically said, "We won."
* Boubacar Cissoko had a couple nice kick-off returns, the first was past midfield but was sent back on an illegal block. After that run the first guy to congratulate him on the sideline was Mike Barwis
* The defense hasn't given up a touchdown in 6 straight quarters now.
* Michigan benefited from a 15 yards roughing/hitting out of bounds penalty late in the game. If it went against Michigan people would have freaked. Those refs throw those flags in the heat of the moment and many times it's just a case of a guy completing a tackle or momentum colliding with the runner a step out of bounds. I saw it on the big medium screen at the stadium but it look like the guy just slammed the runner down with a little extra emphasis, and happened to be out of bounds. I wish they'd wait to throw those flags, or have an out, like a 5 yard version of the penalty.
Sights, Sounds:
* The team ran over to the student section to sign sing The Victors after the game. I assume this is a new tradition after wins as all the players seemed to be heading toward that corner together: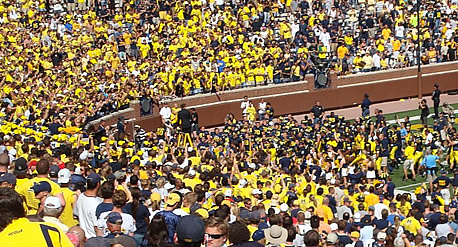 * The MMB did their tribute to Boy Bands and it was well received, although I think most the crowd had no idea what they were doing. They broke out a little dancing in unison, which is big with Boy Bands: