So I got the final edition of the Ann Arbor News delivered today.  Geoff Larcom pulled together a nice compilation of memories in the opening section.
.
I relied on the paper less and less for information but still enjoyed getting it each day.
Speaking of Larcom, he pulled together a few favorite headlines from over the years and cited one that mentioned a scandal in 1909: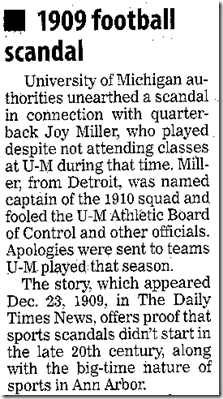 Yes, that pretty much the summary of what happened except while he's listed as a part-time quarterback, the  regular 1909 QB was Billy Wasmund.   The scandal not only hit the pages in Ann Arbor, it made it all the way to the New York Times.  All this said, you need to pick up a copy of Brian Cook's Hail to the Victors 2009 and read about the entire 1909 season including the exploits of Wasmund, captain Dave Allerdice and even the Joy Miller scandal.
Meanwhile, the death of the News means the launch of AnnArbor.com, which is available tonight in its new layout.  The sports page is loaded up with some nice features including a mention of a recent post on these pages.
New writer Michael Rothstein will be providing a daily compilation of the big stories surrounding U-M athletics, his first edition here including a few links out to fellow bloggers UM Hoops and mgoblog.   We'll have to see how Rothstein performs against master of the daily quick hits, Sean 'Walter Cronkite's Ghost' Yuille over at the excellent Michigan Sports Center.