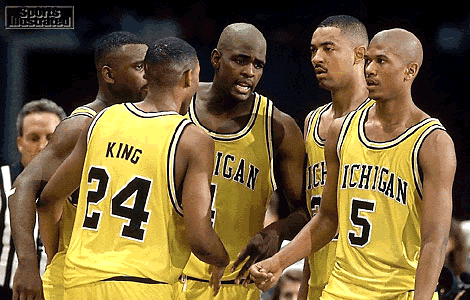 I was pounded last night and this morning with pundits framing this year's Final Four as the greatest ever, pointing to the unprecedented four #1 seeds, and the AP which understandably had Memphis, North Carolina, UCLA and Kansas in top slots in the final poll. Other experts pointed to the tradition of these schools and their placement in all-time NCAA hoops wins.
It's no doubt an impressive Final Four but I don't think you can call it the unquestioned strongest field ever. The 1993 Final Four is remembered most for Chris Webber's timeout, and for folks in Ann Arbor, the fact that Michigan's existence was wiped from the NCAA and University record books. But comparing it with the 2008 field I think you can argue the 1993 field is as strong if not stronger.
First let's look at the seedings, as that's what most folks look to when anointing the current group the greatest ever. Yes, all #1 seeds made it and get ready to be reminded of that all week (flashback to Super Bowl XL- it turns out Jerome Bettis is from Detroit). In 1993 you came up just short, with three #1's (Michigan, Kentucky, North Carolina) and a #2 (Kansas). The Kansas nipped Big Ten champ and #1 seed Indiana 83-77 in the Midwest Regional final. So looking purely at seeds, of course 2008 has a mild edge but keep in mind these seeds are made by a bunch of dudes packed in room, wearing bad ties donning coffee-stained short sleeved shirts.
As far as tradition, Kansas and North Carolina are a wash as they appeared in both Final Fours. UCLA is the greatest tournament team ever, Kentucky is the greatest regular season team with the longest running tradition. The Wildcats are the Michigan football of hoops, holding the records for both most wins and all-time winning percentage. A toss up there.
The history of Memphis and Michigan is surprisingly similar, both teams starting to play ball in the early part of the century and all time winning percentage currently around .600. But looking into the tradition department, given Michigan's success in Final Fours in the 1960s, 1970s, the 1989 championship and of course in 1992, I think Michigan's got the nod in tradition over Memphis. And keep in mind Michigan's status in the annuals of hoops history was at a much higher place fifteen years ago.
Had the 1993 teams played in 2008, guys like Rose, Howard, Webber, Kentucky's Mashburn, UNC's Montross would probably not still be in college. I think that adds to 1993's resume. I'm not going to get into comparing the strength of each team but I think in the hype department having the Fab Five in there returning to the finals puts the 1993 New Orleans over the top.
Photo credit: Sports Illustrated