[ed.  Enjoy this guest post by James Dickson of AnnArbor.com.  James offered to post his coverage of this event on MVictors and of course I was thrilled.  And make sure you check out Dickson's recent piece in Michigan Today on Fritz Crisler. – Greg]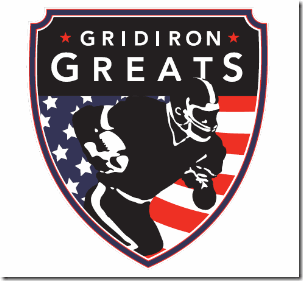 On Saturday night, the Gridiron Greats Assistance Fund held its second annual Hall of Fame induction ceremony. The Gridiron Greats fund came about in 2007 to assist players from what former Detroit Lions DT Roger Brown called the "B.C. Era" – Before Cash – and has granted upwards of $2 million to former players and their families since its founding.
14 men were inducted into the hall of fame, mostly men who played or coached for the University of Michigan, Michigan State, or the Detroit Lions at some point in their careers. Among the inductees were legendary Detroit Lions Lomas Brown and Lem Barney, broadcaster Pat Summerall and headliner Mike Ditka, who has served as the public face of the nonprofit since its founding.
Four Michigan Men were inducted into the Hall:  Lloyd Carr, former head coach and retiring associate athletic director, "The Specialist" Bob Chappuis, war hero and star of Michigan's 1947 national championship-winning team, John Greene, an end under coach Fritz Crisler who went on to break barriers as a Detroit Lion, and Michigan's new athletic director David Brandon.
Lloyd Carr
Without Lloyd Carr, the University of Michigan would have to look back to the 1948 season to remember a time the Wolverines took on all comers, fair and square, and emerged from every contest victoriously.
Beyond the memories of the 1997 national championship season, which featured the breakout performance of Heisman Trophy winner Charles Woodson, what Carr contributed to Michigan was the belief that winning big, even in the modern game, is not at odds with recruiting and playing by the rules.
Carr, who recently announced that he'd be retiring as associate athletic director, has maintained that Michigan is the only place for him, and echoed those remarks, calling Michigan "the greatest university you could ever be a part of." Carr will likely remain involved in some capacity at the university; in a February interview with AnnArbor.com, Carr expressed an interest in using his talents to benefit other parts of the university with recruitment and development.
Bob Chappuis
After the ceremony, Chappuis told me a story that emphasized Crisler's motivational skills.  The Michigan football team was practicing about two days before the 1948 Rose Bowl when Chappuis went down with a tweaked hamstring.
Trainer Jim Hunt ran over to check on The Specialist, who had finished 2nd in Heisman voting to Notre Dame QB Johnny Lujack.
Chappuis had played the entire 1946 season with a broken wrist and thought that Crisler might have some sympathy for him.
"What's going on here, Jim?" Crisler asked his trainer.
"He's got a hamstring," Hunt replied.
"Oh well. At least it wasn't anyone who can run," Crisler said before walking away in disgust.
"You've never seen anyone hop up quicker after a hamstring!" Chappuis recalled. But Crisler's motivational ploys worked. The Wolverines scored 7 touchdowns in a 49-0 romp over the University of Southern California in the 1948 Rose Bowl. Chappuis threw for two touchdown passes.
Michigan's dominance in that Rose Bowl is important because Notre Dame had been the no. 1 team all year. After Michigan's annihilation of the Trojans, the Associated Press took an unprecedented step and took a postseason poll to determine the national champion. Michigan won that vote, but much like 1997 with Nebraska, it shares the national champion moniker with Notre Dame.
Chappuis wore his 1947 national championship ring to the dinner.
John Greene helped break down barriers
"America was ugly when we came along," Wallace "Wally" Triplett said when accepting the Hall of Fame award on behalf of his former Detroit Lions teammate John Greene.
Greene, who played end for Fritz Crisler and wrestled for Cliff Keen at Michigan, was a star on the Detroit Lions when Triplett, the first black player in NFL history, was signed to the Lions in 1949.
Greene, nearing the end of his career, walked across the room, shook the hand of his new teammate, and said "Welcome, Wally." Not because Wally was a black player on an all-white team. But because Wally was a member of that team and should be treated just like anyone else – nothing more or less.
Triplett recalled that the state of the black professional athlete was precarious in those days. Without star players like Greene believing that the only color that mattered was the colors on the jersey, Triplett said, black players might have been relegated to the fringes of sport, like the Harlem Globetrotters: talented for sure, but sideshows undoubtedly.
"I want all of you to open your programs and cross out anything about John's career stats," Triplett instructed when he accepted on behalf of Greene, who at age 90 is in fragile health.
"His character means so much more than any of that."
For Dave Brandon, the sidelines were a learning experience
Michigan's new athletic director Dave Brandon was honored more for he and his wife Jan's charitable contributions over the years than for his on-field exploits. About 2 minutes into his acceptance speech Brandon joked that he'd already talked for longer than he'd played one season.
Whenever Brandon's playing days are mentioned, that he was not a star player comes up not soon after. But as Brandon has said many times since, that was just what he needed.
Brandon left Michigan feeling like a failure. He hadn't played much, and was student-teaching and hoping to start a coaching career when he got a call from a Procter & Gamble recruiter.
He wasn't about to ride the pine this time around. The job at Procter & Gamble – coincidentally, P&G is also where former Michigan AD Tom Goss started his career – was Brandon's first step in a career that led to a seat on the Michigan Board of Regents and the big chair at Domino's Pizza before taking the helm of the athletic department.
Michigan men, for the most part, shied away from the purpose of the Gridiron Greats fund, which is to help players from the "Before Cash" era with medical and living expenses. The Hall of Fame ceremony was the end of a long day that featured autograph sessions with inductees. Proceeds went to the Gridiron Greats Assistance Fund, which said it has distributed more than $2 million in aid to former players.
Here's a 2007 video with Ditka talking about how the fund came about:
James David Dickson is a reporter for AnnArbor.com who writes about Michigan sports in his spare time.