Props to Brian Griese and Bill 'Huge' Simonson who helped the Michigan football team and WTKA raise over $117,000 for the new Mott Children's hospital. Here's more from mgoblue.com.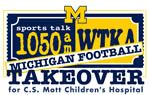 The former national champion QB called in the last hour of the telethon and offered to match dollar for dollar each pledge made in the final 52 minutes. Simonson broadcast his show from the Ann Arbor studio and helped expand the reach of the telethon to stations around the state. In those final minutes callers donated over $31,000 and with Griese's match put the total way over the $80,000 goal. This site has been critical of WTKA in recent posts but this is certainly worthy of praise.
The final hour also featured the conclusion of Lloyd Carr's turn at the microphone (he went for about 2 hours) and Mike Hart. Hart was joined by Saline native and freshman tailback Vince Helmuth of whom Hart referred to as "my fullback".