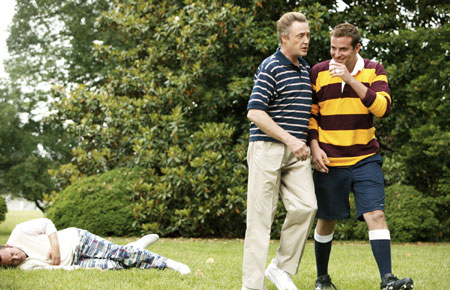 [Ed. Not everyone's stoked for the planned alumni flag football game that will be held Saturday morning in Michigan stadium.  Frequent commenter and 'Lew' needed to speak his piece on the main page and I cheerfully yielded the floor to the gentleman from Ann Arbor.   I still say count me in but.. – Greg]
Are you really fired up about this Alumni game tomorrow?  It sounded pretty cool to me at first — a chance to see Chris Calloway, Ricky Leach, A-Train et. al work their magic once again in Michigan Stadium.  But I have a feeling this thing is going to get very tired very quickly.  Consider:
What are they going to be wearing?  Throwback uniforms?  Sweatpants?  Jeans and cut-off t-shirts?
Are the players (or better yet, the coaches) going to be mic'd up a-la MTV Rock 'N' Jock Basketball?  Is Bill Bellamy coming?
Do we have to put up with corny gags like a shaving cream pie in Andy Mignery's face?  Is Bill Dufek going to dump a bucket of water, er, popcorn on some unsuspecting pre-schooler?
Will Scott Dreisbach re-enact his last-second TD pass that beat Virginia in '95?
What the heck is Ali Haji-Sheik supposed to do?
Are they really going to use the ENTIRE field?  Can any one of these guys run that far anymore?  I don't need to see Clint Copenhaver pull up lame with a hammy.  It would ruin my impression of him.
One of these days, they need to put the team out there for a real scrimmage, not a pansy intra-squad scrimmage in a "festive" environment.  Let's scrimmage against a real, hated opponent, the way NFL teams do during summer workouts — you know, the ones you always see highlights of on Sports Center where two guys end up in a no-holds-barred fist fight trying to tear each other's face masks off and the refs/coaches just let 'em go because the guys are trying to earn a roster spot?  You'd get a packed Big House for that.  Guaranteed.
On second thought, a Clint Copenhaver hamstring injury is much more palatable than a Brandon Minor knee injury.  Got get 'em, alums.