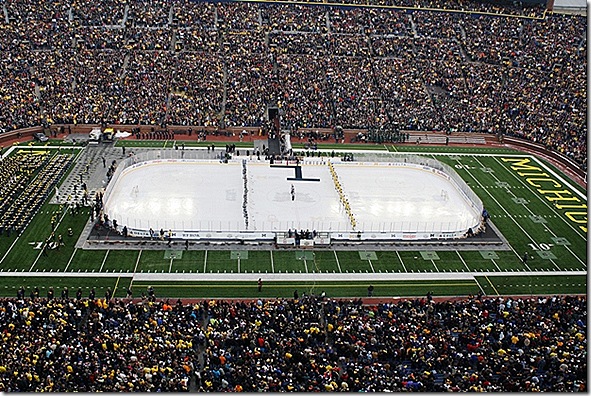 Per an email from Sara Wilcox of Guinness World Records PR.  I emailed earlier this week asking if Guinness had completed their certification:
Thank you for your inquiry to the Guinness World Records press office.

Yes, a Guinness World Records adjudicator was on site and verified the following record –

Highest attendance for an ice hockey match

The largest confirmed audience for a game of ice hockey was 85,451 people at "The Big Chill at the Big House" between the University of Michigan and Michigan State University at Michigan Football Stadium in Ann Arbor, Michigan, USA, on 11 December 2010.
This number is in pretty sharp contrast to the 113,411 claimed at the game on Saturday.  More later.  I noticed this number hasn't been reported on their website just yet.  
Update:  One possibility is that while they've certified the "record" this 85K figure was just an initial count. Via a tweet from @MichiganHockey (MichiganHockey.net) that figure may just be the tally of the tickets scanned and the full number will follow.  We'll see.  While I didn't think the crowd was larger than UConn it certainly must have been over 100K, no?
Update #2: MichiganHockey.net found a blog post from Guinness on an update on the count – confirming this is still in flight. 
Update #3:  AnnArbor.com chimes in, referencing the Guinness blog post on the topic.