Death March Madness Finals!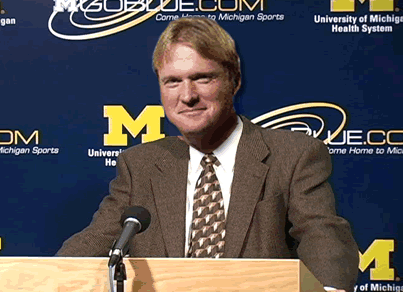 Six thousand votes later you've picked your man. In a bit of a surprise the winner of the 2007 Death March Madness tournament to determine Michigan's next head football coach is Jon Gruden of the Tampa Bay Bucs. You can see all the final results in the bracket here.
The Tampa Bay coach took an interesting path to get here, facing many of the men that have been directly engaged by Michigan in the search. Gruden started with a bye as the #2 seed in the Yost Region and easily defeat current defensive coordinator Ron English in the second round with 67% of the vote. Next he faced the odds-on favorite Les Miles on the day after word got out that Miles was staying at LSU. Popular Wolverine opinion at that time was that Miles manipulated Michigan to get more money from LSU. That, I believe, was enough to push Chucky past Miles and into the Final Four. If you replayed that match-up today, just a week later, my guess is that Miles would beat Gruden in a landslide.
Gruden's biggest challenge came in the semis when he just squeaked by Rutgers coach Greg Schiano who earlier this week rejected Michigan's interest. Chucky took the title by tallying 56% over from CMU and current Cincinnati coach Brian Kelly. While many swear that Kelly is the answer, there's just too many folks with a sour opinion of the Grand Valley legend perhaps stemming with the murder mess at Mount Pleasant.
So what does this all mean? Not much. We did learn a couple things. First, we learned that you hate Kirk Ferentz. Later we learned that you'll turn on a Michigan Man if for a second you think he's done you wrong (Miles/Harbaugh). We learned that you'll burn the town of Ann Arbor if Mike DeBord is named the coach. That's about it.
Will Gruden actually get the job? Doubtful but at this point who the heck knows? Ohio State wanted to woo him to Columbus years ago but Chucky wasn't interested. It comes down to whether a) Martin would bother to call and of course shell about $3-$3.5M, and b) whether Gruden wants a lifestyle change.