[Update: MLive posted the audio of Jim Carty's interview with John Bacon from this Sunday's Off the Field on WTKA]
Ann Arbor News columnist Jim Carty sought out former M QB and new Stanford coach Jim Harbaugh. Carty wanted to give Jimmy a chance to explain his comments that were critical of the Michigan athletic program, and in particular, some of the alleged practices of steering athletes into 'lighter' majors and of turning its back on players after they graduate. [Check out mgoblog or The M-Zone for more detail and reaction on Harbaugh's initial comments.]
I heard Carty this Sunday morning with John Bacon and former M star Jamie Morris on WTKA's 'Off the Field' [here's the audio]. Carty said he was half expecting Harbaugh to back away or at least explain that those comments as a weak moment. JC explained that not only did Harbaugh not back off; in fact he stepped it up.
Sunday morning's AA News details the phone interview with Carty and it is pretty shocking stuff. Certainly check out the entire article but here are a few excerpts:
"I would use myself as an example," Harbaugh said. "I came in there, wanted to be a history major, and I was told early on in my freshman year that I shouldn't be. That it takes too much time. Too much reading. That I shouldn't be a history major and play football."
And here's the stinging analysis from Carty:
…when Jim Harbaugh, a man who played here and makes his living in college football, is willing to burn down one of the most important bridges in his life to make the point Michigan can do a better job balancing football with academics, it's impossible not to ask whether he might be right.

To not remember the fan and media pressures placed on Lloyd Carr after a 7-5 season two years ago, including some by your local sports columnist, and wonder how those pressures couldn't have an effect on getting borderline athletes into school and keeping them eligible.

To not question whether in its drive to succeed in Division I football, Michigan may have become just another place where football comes first without even realizing it.
I'll be watching and listening as this story progresses. There is a balance somewhere between the academic and the athletics. You can't expect to have the same standards for students and athletes at a school like Michigan. There is a line and it may have been crossed.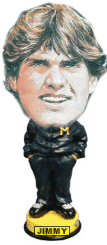 I know first hand there are loads on former M student athletes walking around not using their native Objibwa speaking skills, which was offered as a lighter alternative to Michigan's strict foreign language requirement. Unless you are in casino management in Mount Pleasant I'd have to guess that those precious minutes studying for the Ojibwa midterm were better spent at Rick's.
At the same time I know there were a few guys in pre-med and in the undergraduate business school. I have some trouble blaming the school for the academic performance of the entire program. I mean, especially today, these guys are given a lot of opportunity to get a great education.
We'll be looking forward to some comment out of Weidenbach Hall. Carty writes that our AD declined to comment on the latest Harbaugh blasts. Here's to hoping that Carty keeps asking questions….even if the Ann Arbor News gets a call from the AD's office asking him to keep quiet. I'd sure like to know what Dave Shand would have to say about this.