Tip of the hat to reader Jeff for this tip.  You may have seen this movie poster around town or on this site or on eBay: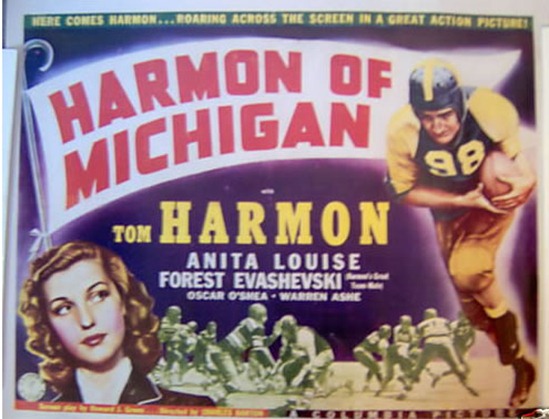 Well, it actually is a real film from 1941 featuring Tom Harmon himself and even 1940 team captain Forest Evashevski.  Summary:
A football coach, riding high and feeling bulletproof, begins to have his life unravel after a series of his own arrogant blunders. He orders an illegal "flying wedge" formation in a game (which costs him his job) and ruins his marriage over more loutish behavior before coming to his senses.
Harmon, the loutish brute.
Now for the news–turns out a DVD version of Harmon of Michigan is being released next week and you can order it on Amazon.   Looks like it's a program where they will re-issue old films on demand (they'll cut and ship the DVDs as folks order them).   That's good by me.
Jeff added, "I doubt the film is particularly good, but it'll be fun to watch Ol' 98 portray himself."  
Yes, I'm guessing this is just about the worst film ever made but it would be interesting to see 98 and Evashevski fumbling around trying to act.
You can order it now for $20.95 on Amazon for its December 6 release.   Like the movie poster?  Pick it up on eBay now.