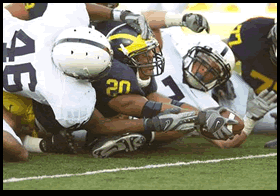 Mike Hart pretty much fell off the top of all Heisman watchlists after the first two debacles because the winner of the award is typically associated with one of the top teams in the country. I don't know where the Blue will finish up this year but if Hart keeps it up he's got to be considered. I'm not the only one, check out the love from CFN's Michael Bradley:
Hart, The Heisman Horse

If the Heisman Trophy were to be awarded this week, there would be no shortage of candidates. The West Virginia duo is outstanding. Darren McFadden is tough to beat. Colt Brennan piles up the yards like crazy. Ray Rice. DeSean Jackson. All worthy possibilities. But if you want to find the player who is not only most valuable to his team but also perhaps the most productive and reliable player in college football, look no further than Michigan's Mike Hart. With the Wolverines reeling from an humiliating 0-2 start, Hart guaranteed a win over Notre Dame (not exactly a Kreskin-worthy forecast, given ND's horrible team) and then backed it up with a big performance. Last Saturday, with U-M trying to get a good start in the Big Ten and playing against a ferocious Penn State defense that ranked first in the nation against the run, Hart carried the ball 44 times for 153 yards and a touchdown, helping Michigan shorten the game and protect true freshman QB Ryan Mallett. A lot can happen between now and early December, but Hart has proven himself to be a standout so far.
Update: Corso agrees. A great piece on 20 from mgoblog.