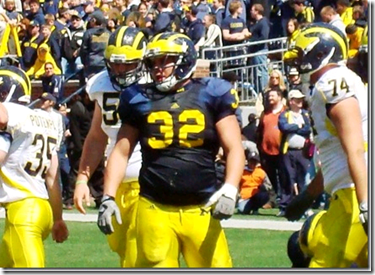 Sad to learn that Saline native Vince Helmuth is transferring from the Michigan football program.  I interviewed him earlier this year in part for a piece for the Saline Reporter, and talked about his transition from fullback to defense tackle and the challenge in making such a switch.   I might reach out to him to understand what drove the decision and I'm guessing it's about playing time.
He obviously wants to play or he wouldn't have tried to make the move to defense.  In the interview he was also excited about the prospect of his brother Gabe walking on the program this year:
MVictors: I hear your brother Gabe is going to walk-on?
Helmuth: He's in the process of reviewing his options. I'm pretty sure he's going to walk-on, but not totally sure. I want him to do what he's comfortable doing. Coming in as a walk-on you're signing up for five years and I want him to make that decision, I try to stay out of it. I've been as hands off as I can, besides saying if he comes here we'll be cool roommates, and all that stuff.
I hear that Gabe is going to end up at Eastern Michigan to focus on track—perhaps that's where Vince is headed to join his bro and former Michigan defensive coordinator Ron English.