After it happened, media relations made an announcement in the box that Brandon Herron's 94-yard interception return for a touchdown was the longest in modern (1948-present) history.   But the postgame notes make a more definitive claim:
Herron's 94-yard touchdown was the longest interception return for a touchdown in Michigan program history. The previous record was 92 yards, held by Ken Tureaud (vs. UCLA, Sept. 30, 1961) and Thom Darden (vs. UCLA, Sept. 25, 1971).
Offhand, the only other long interception return I could recall in the "pre-modern" era was Tom Harmon's pick of Iowa's Nile Kinnick which he took back for a score at the Big House in 1939.   The rub here is figuring out exactly how long that return actually was.
I've read 90 yards [TIME Magazine and NY Times], other accounts of the game have it at 91. But I've also read it was a 95 yard return [LA Times, Harmon's obit and here in his College Hall of Fame bio] — which is of course a significant factor in this case!
As a data point in this mystery, The U-M Bentley Historical Library has this great shot of Harmon with the caption "Tom Harmon intercepting a Nile Kinnick pass vs Iowa, 1939":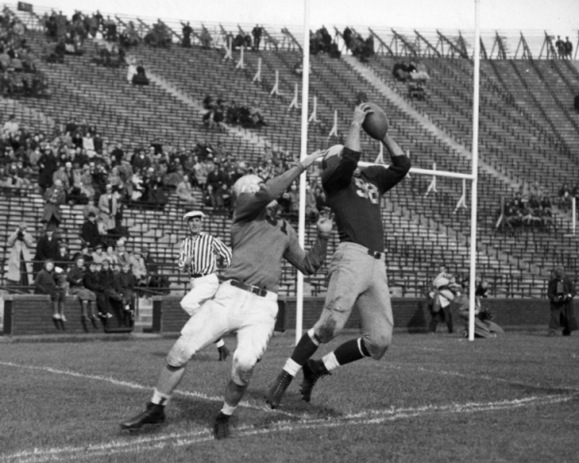 Love the kids chilling on the wall [U-M Bentley Historical Library]
Of course this appears to be happening right on the goal line which would imply, if he took it back, that this would have went for 100 or so yards.  Hmm.
I scanned through the news archives of the game and best that I can determine is Harmon had at least two picks and that the above photo is probably not the one he took to the house.   More evidence comes from the postgame when Coach Fritz Crisler said, of Harmon, "He's best known as a runner but I'd say his blocking and defensive work are equally good.  Iowa threatened only twice after their touchdown. Harmon stopped both."
Stopped, in this case, probably means an interception.  This is backed up by a 1955 Michigan Daily piece that discussed that famed 1939 battle and coincidentally reprinted the above photo.  The Daily wrote that Harmon was "the defensive star of the [1939] game, intercepting several passes."  That article also mentioned the big play in question:
On one play, the fabulous "98" accounted for what the next day's Daily termed the most spectacular play of the afternoon, intercepting a Kinnick aerial on his own five-yard line and tearing down the sidelines unscathed for a 95-yard touchdown run, as Michigan triumphed, 27-7.
Fabulous.
This is a toughie, but given what I know about how football history (particularly statistics and legends) tend to be stretched, the answer is it was probably around a 90 yard return.   But  I do take stock in what The Daily wrote at the time.  I doubt that the New York Times had a man at the game and The Daily certainly had a few eyes on the play.
Verdict:  Screw it.  Call it 95 and give it to Harmon. 
[Ed. Update 9/4:] Thanks to reader Raoul. Currently the athletic department acknowledges the play as 95 yards as well, as witnessed deep in the current record book on page 158:


Of course this may all be moot.  Historians like Dr. Kryk or Dr. Bacon or someone else out there might recall a longer, less conspicuous interception return of 95+ yards prior in the early days of the program. 
We Can All Agree on This
Coincidentally another game note from media relations mentions Harmon, this time recalling his heroics in 1940 against Cal:
Herron is the first Michigan player with two TD returns in game since Tom Harmon (KO return and Punt return) in 1940 against Cal.
Those were just two of Harmon's four TDs that day, another was one of my favorites runs of all time.  It was Harmon's 21st birthday and it gave the west coast writers a chance to see his brilliance.
Here's something we can all agree on: Harold Brennan is a funny guy and this scene rules:
More Harmon stuff:
Why Tom Harmon Went to Michigan
Tom Harmon – Big Ten Icon #5
The Drunk and Old 98
Tommy's the BMOC
Harmon and Old Number..Six?
Tom Harmon says 'Vote Heston'
Harmon Jitterbugs with Joan & Jinx
Harmon Goes for the Gusto
Follow MVictors on Twitter